A passion for baking
---
Baking not only needs love, creativity and the best ingredients – the right baking pans and utensils are also essential. Products that have been perfectly designed to make baking easier and make sure your recipes turn out well. Baking pans and baking utensils from KAISER.

For more than 90 years, we have been developing our products with one simple goal in mind: making baking your favourite hobby. Whether you use our baking pans, baking utensils, cookie cutters or our ideas for hearty baking.

KAISER hopes you enjoy baking – and guarantees success.
Original Kaiser - the whole world of baking.
---
You too can discover the original brand for the best baking results – it's easy with a glance at our products.
KAISER baking pans – innovation and quality from Germany
---
KAISER baking pans stand out thanks to first-class craftsmanship and a long-lasting coating. Enjoy successful results every time with the right baking pan!
All of our knowledge and experience has been put into our LA FORME PLUS baking pans. Each baking pan is carefully designed down to the smallest details, offers unique, superior quality and therefore ensures perfect baking results. So each pan therefore meets the most demanding requirements: yours. See for yourself – a new, easy-to-clean clasp, perfect workmanship, extra heavy-duty material and an innovative non-stick coating that has been developed exclusively for LA FORME PLUS baking pans: KAIRAMIC®.

Our special ceramic-based non-stick coating ensures that the dough does not stick to the pan when baking. Thanks to its special composition, the KAIRAMIC® coating is scratch-resistant, extremely long-lasting and remains beautiful. Even when used on a regular basis, the surface retains its wonderful shine and its function remains unaffected.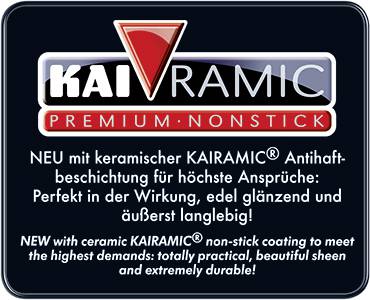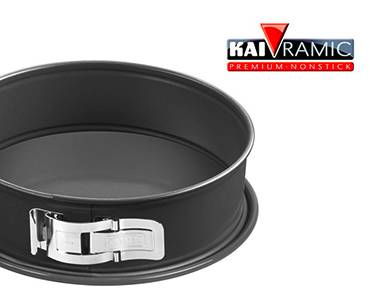 More than 90 years of Original Kaiser
---
When Wilhelm Ferdinand Kaiser founded a wholesale enterprise for metal goods in the Ore Mountains in 1919, that marked the beginning of a unique ascent from a small business to a market leader for baking pans and accessories. Starting from the ground up after World War II, the company expanded quickly, and in 1978 moved to its present location in Diez in the Lahn Valley. Kaiser maintains technologically advanced production facilities and sells its products in more than 50 countries throughout Europe and overseas.

Innovative thinking and investments in the future, combined with many years of experience and technical expertise, are the maxim for many sensational developments. In 1968 Kaiser introduced the first Teflon-coated baking pan, followed by the La Forme baking pan series in 1984. Even after WMF acquired a controlling interest in the company in 2002, Kaiser continued to operate independently. Meanwhile, the repertoire includes baking pans in all variations, cookie cutters and baking utensils made of diverse materials.

Today, the company maintains technologically advanced production facilities with pioneering plant and logistics structures on a surface area of more than 57,000 m2 and sells its products in more than 50 countries throughout Europe and overseas.

Kaiser therefore presents itself as a company that demonstrates universal competence with its diverse range of products and is able to repeatedly meet the demands of the future with a display of excellence.