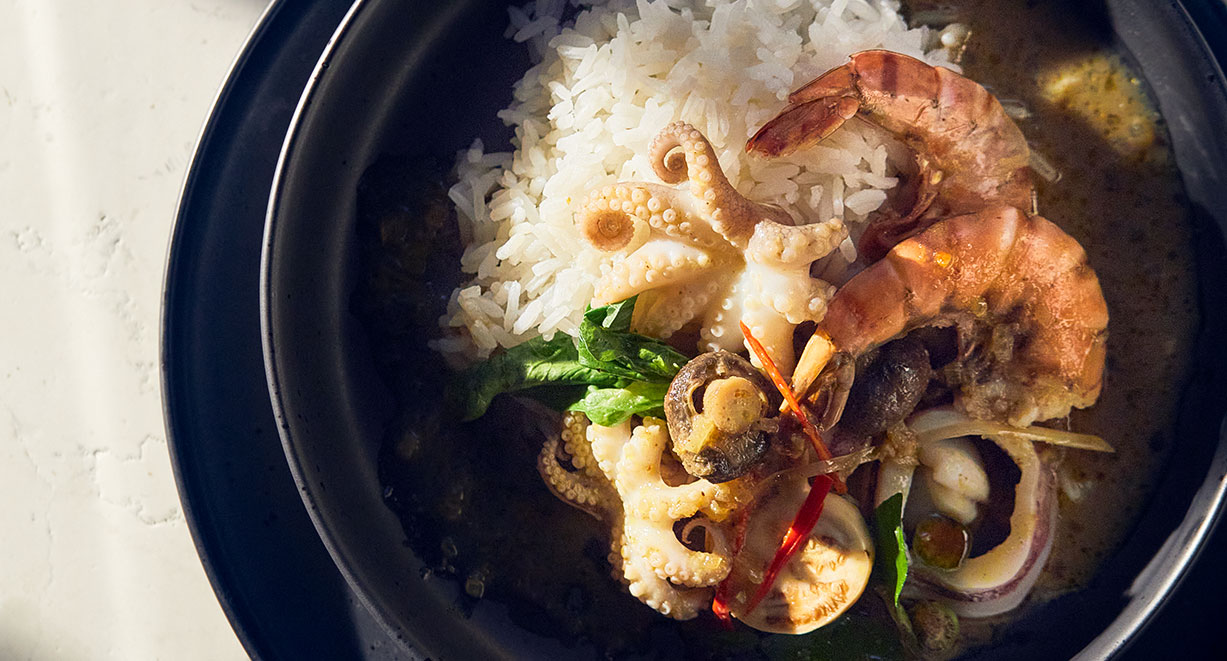 CURRIED COCONUT MILK HOT POT
Ingredients
Serves 6 people
Broth:
4 garlic cloves
4 shallots
1 piece fresh galangal
4 lemongrass stems
1 large bunch fresh ·
coriander with roots
4 tbsp. coconut oil
4 tbsp. yellow Thai ·
curry paste
4 Kaffir lime leaves
1,5 l vegetable broth
800 ml coconut milk
Lime juice to taste
Salt
Soya and oyster sauce

2 small red chillies
For the seafood curry Hot Pot*:
12–18 king prawns in their shells
600 g prepared squid, ready to cook
1,2 kg firm fish fillet, skinless
Some lime juice
250 g mangetout
300 g mushrooms
2 large red peppers
300 g Thai eggplant
400 g spinach heads
Plus:
1 large bunch Thai basil
Jasmine rice
Lime wedges
Preparation
---
Kühlzeit: 3 Stunden
Zubereitungszeit: 40 Minuten
---
Broth: Finely chop the garlic, shallots and galangal. Flatten the lemongrass. Cut the roots off the coriander, trim and chop it. In a pot, fry the prepared ingredients, curry paste and lime leaves in the coconut oil. Leave to simmer with the broth and coconut milk for around 10 minutes. Season the broth with lime juice, salt, soya and oyster sauce. Divide into both chambers of the hot pot and heat up. Cut the chillies into rings and add to the chambers.
Hot Pot: Cook the rice according to the instructions on packet. Rinse the prawns. Cut the squid into pieces of around 3–4 cm. Wash the fish fillets and cut into bite-size pieces. Drizzle lime juice over the prepared ingredients. Trim the vegetables and cut into pieces if necessary. Place the vegetables in the chambers of the hot pot. Gently simmer. Add seafood and fish pieces to the cooking baskets as desired and simmer in the hot broth. Arrange some rice in preheated bowls. Arrange the seafood and fish on top. Use a ladle to scoop vegetables and broth out of the hot pot. Garnish with coriander and Thai basil. Serve with the lime wedges.
* Can also be prepared vegetarian if you like