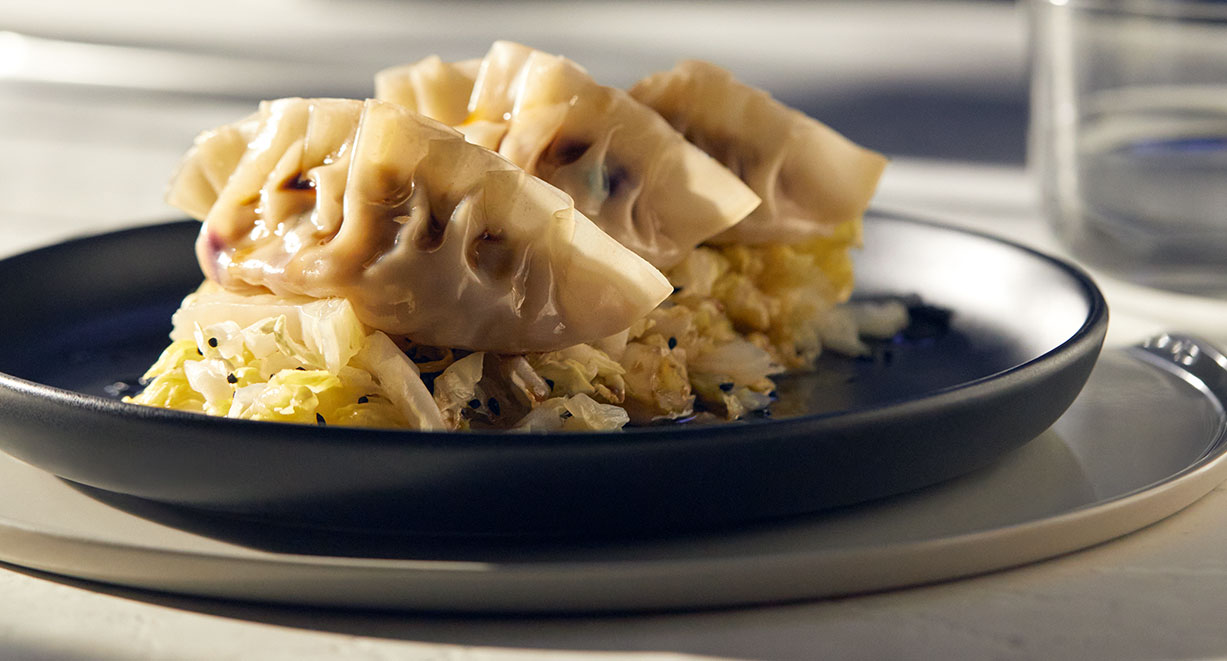 Ingredients
Serves 4 people
30 g basmati or jasmine rice
2 garlic cloves
1 piece fresh ginger (5 cm)
1 medium-sized carrot (approx. 100 g)
150 g raw prawn meat
removed from shells
1 large bunch of chives
or garlic chives
300 g veal mince
Soyasauce
Approx. 6 tbsp. sesame oil
Salt
Cayenne pepper
Approx. 200 g of dumpling sheets for dumplings (approx. 40–50 pieces)
5–6 6 large Chinese cabbage leaves
4 tsp. lime juice
Außerdem:
1 tbsp. brown sugar
1 tbsp. each of white sesame seeds and black cumin seeds
Some Asian dipping sauce to taste
Preparation
---
Kühlzeit: 3 Stunden
Zubereitungszeit: 40 Minuten
---
Dumplings: Soak the rice in warm water. Peel the garlic, ginger and carrot. Set aside some garlic and ginger for the dressing. Chop the prawn meat very finely. Chop the garlic chives very finely. Finely grate the garlic and ginger. Roughly grate the carrot. Allow the rice to drain. Knead the prepared ingredients, veal mince and rice together. Season with soya sauce, 1 tbsp. sesame oil, salt and pepper. Bring water to the boil in the covered hot pot. Coat the steaming top with sesame oil. Roughly pluck the Chinese cabbage leaves. Loosely lay a few leaves on the base of the steaming top so that steam can still enter the top. In portions, cover the dough sheets with the filling. Brush the edges of the dough with water and fold over the circles, pressing the edges firmly together. Steam the dumplings in the closed steaming top for about 8–12 minutes.
Dressing: Mix together the lime juice, sugar, the rest of the sesame oil and a little soya sauce. Finely chop the remaining garlic and ginger and stir in. Lift the dumplings and Chinese cabbage out of the steaming top. Cut the cabbage into strips, mix with the dressing. Sprinkle with sesame and black cumin seeds. Arrange the dumplings, cabbage and dip to taste.