Agnolotti with purée in a smoked paprika stock served with bi-coloured courgetti
---
---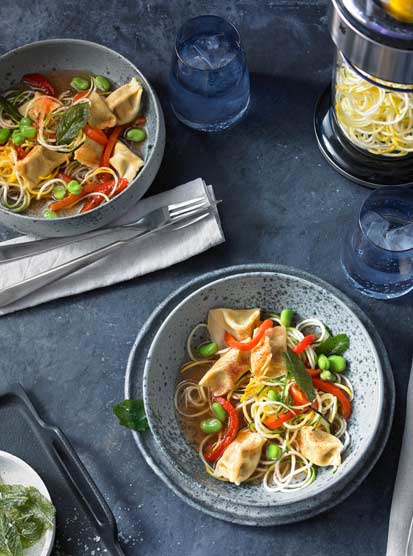 For the stock:
1 kg chicken wings
1 bay leaf
1 bunch of soup vegetables
Salt
1 tsp. smoked paprika powder (pimenton dulce)



For the pasta:

135 g flour, type 00 or 405
5 egg yolks (L)
3g salt



For the side dish:

2 courgettes, green and yellow
20 ml olive oil
For the filling:
5 mint sprigs
1.5 kg green beans in pods, alternatively 400 g frozen beans
1/2 TL Chilipulver
1 slices of toast bread, approx. 50 g
100 g crème fraîche
2 egg whites (L)
Salt
Black pepper, freshly ground
---
Preparation
For the stock, rinse the chicken wings in warm water and slowly bring to the boil in a pot with 1.5 litres of cold water, then cook with the bay leaf over a low heat for 90 minutes. In the meantime, clean the soup vegetables, roughly chop them and cook them with the chicken for the last 30 minutes. Later, pass the stock through a linen cloth (or paper towel) into a second pot and boil down to 600 ml – then season with salt and paprika powder (the chicken wings can be used for another dish).
For the pasta dough, knead all the ingredients in a food processor to form a homogeneous dough, then wrap in cling film and chill for at least 30 minutes.
For the filling, remove the beans from the pods and cook for 2 minutes in boiling salted water, then drain and remove from the husks. Set aside 4 tablespoons of beans. Pluck the mint from the stems – except for a few nice tips for garnishing – and chop finely. Remove the crust from the toast bread and grind finely in a food processor, then purée finely with the beans, mint, crème fraîche and one egg white and season with salt and pepper.
Roll out the pasta dough as thin as possible into long strips (10 cm wide) using a pasta machine. Coat the strips with the remaining egg white. Using a piping bag, pipe dollops the size of a hazelnut onto the pasta dough, leaving a little space between each dollop, then fold the bottom edge of the dough over to the centre of the filling and roll everything up again, so that the filling is covered by the dough. Press down on the dough with your fingers between each dollop, then separate the agnolotti (e.g. with a rolling pin or a knife). Before serving, put the pasta in boiling salted water and let it simmer for a few minutes over a very low heat.
Shortly before serving, rinse the courgettes in cold water and cut into courgetti using a spiraliser. Then sauté briefly in olive oil in a frying pan and season with salt and pepper. Serve together in the stock with the agnolotti, the remaining beans and the mint.
Preparation time
2.5 hours
---