Autumn apple salad with walnuts and berries
---
---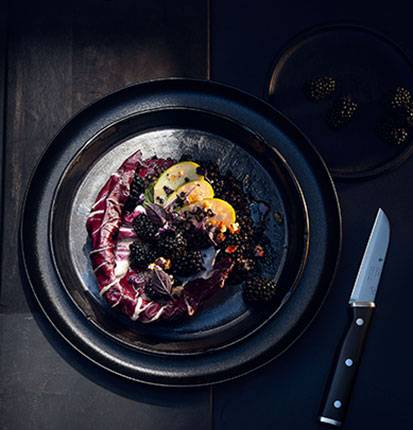 Ingredients:
2-3 sweet-sour apples (e.g. Gravenstein, King of the Pippins)
200 g blackberries
Optional: 200 g cooked Beluga lentils
1 handful of fresh, lightly plucked herbs (e.g. basil, parsley, mint, thyme)
1 small head of radicchio



For the topping:

50 g each of almonds, hazelnuts, walnuts
2-3 tbsp. sugar
Salt flakes
For the dressing:

1 small red shallot
1 garlic clove
2 tbsp. honey
2 tbsp. lemon juice
4 tbsp. walnut oil
Salt and pepper
---
Preparation
1. For the topping: caramelize the almonds, hazelnuts and walnuts with sugar in a non-stick frying pan and sprinkle with salt flakes.

2. Spread out on baking paper and chop slightly once cooled down.

3. For the dressing: finely chop the shallot and garlic, and mix well with the honey, lemon juice and walnut oil. Season with salt and pepper to taste.

4. Finely slice the apples and mix with a little dressing right away to stop them from discolor-ing. Arrange on the radicchio together with the blackberries, Beluga lentils and herbs, driz-zle over the dressing and sprinkle with the nuts.

Toasted farmhouse bread is an ideal accompaniment.
Preparation time
Approx. 20 minutes
---