Baguette with chicken breast, fennel and arugula
Homemade - enjoy the full grill variety.
---
---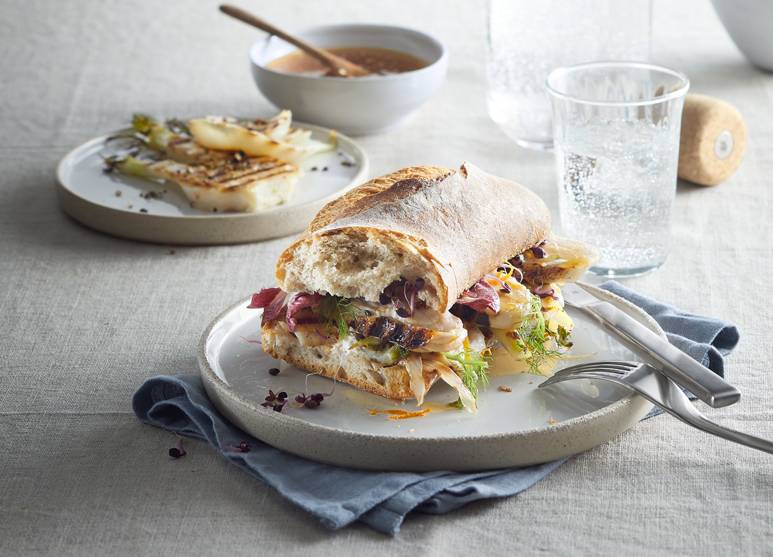 Ingredients:
2 chicken breasts with skin
2 small fennel bulbs
1 radicchio
2 tbsp. honey
1 tbsp. soy sauce
2 tbsp. orange juice
Grated zest of an organic orange
3 tbsp. aioli
3 tbsp. sourcream
Baguette
---
Preparation
Mix the aioli and sour cream to make a cream. Mix together the honey, soy sauce, orange juice and orange zest to create a marinade and coat it on both chicken breasts.

After preheating the WMF ProfiPlus Contact grill, select the "Poultry" program and place both chicken breasts on the grill plate. Grill until the beeping sound is emitted for the "done" level and the LED lights up white. Then leave to stand for a short while and cut diagonally into slices. Drizzle with the marinade again.

Cut the fennel into slices around 0.5 cm thick and grill them briefly on the contact grill using the "Manual" program. Cut the baguette into slices and briefly grill these too on the contact grill using the "Manual" program.

Then spread with the prepared cream. Top with fennel and chicken breast slices, then the arugula and close with another slice of baguette.

Season further with some more of the marinade if desired.



Preparation time
60 minutes
---