Beef burger with avocado and mango
---
---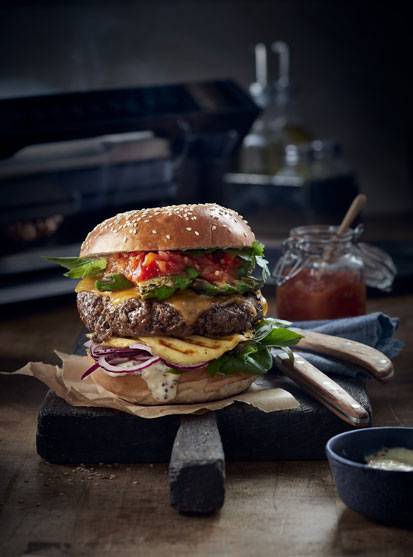 For the burgers:
4 burger buns
800 g ground beef
1 avocado, sliced
1 large mango, sliced
1 red onion, cut into thin rings
Lettuce (e.g. iceberg, head lettuce and romaine lettuce)
Dijon mustard
Mayonnaise
8 slices of Cheddar
Coriander
Thai basil
For the chili and tomato relish:

1 shallot, chopped
1 garlic clove, chopped
Olive oil
2 tbsp. sugar
6–8 tomatoes, chopped
2 chili peppers, cut into thin rings
Salt
Pepper
---
Preparation
For the chili and tomato relish, sauté the shallot in the olive oil. Then add the garlic and sugar. Once the sugar gently caramelizes, add the tomatoes and allow everything to slowly boil down. At the end, add the chili peppers and season with salt and pepper to taste.

After preheating the WMF ProfiPlus Contact grill, select the "Manual" program and grill the mango and avocado slices until the desired level of browning. Meanwhile, mix the mayonnaise together with the Dijon mustard.

Using the patty maker (or by hand) form 4 burger patties out of the ground beef, each weighing 200 g. Now select the "Burger" program and place the patties on the preheated grill plates. Grill until they reach the desired degree of cooking. Then immediately place two slices of Cheddar on top of each patty.

To complete the burger, spread the Dijon mustard and mayonnaise mixture onto the bottom half of the burger bun, top with lettuce, red onion, Thai basil leaves, mango slices, the beef patty, avocado slices and coriander. Then add the chili and tomato relish.
Preparation time
40 minutes
---