Beef fillet with grilled peach
---
---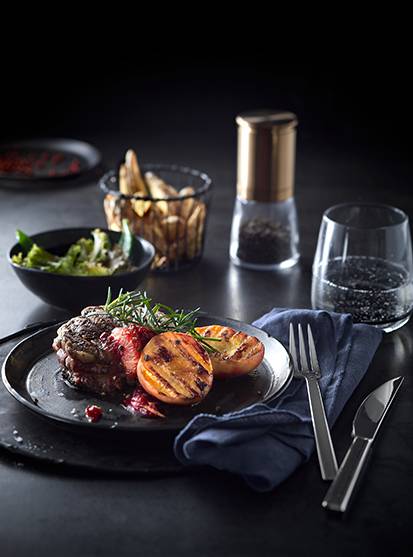 Ingredients:
4 beef medallions, 200 g each
4 ripe peaches
200 g cranberries
1 organic orange
100 ml orange juice
4–6 tbsp. brown sugar
Olive oil
500 g sugar snap peas
White balsamic vinegar
Salt
Coarse pepper
---
Preparation
Bind the beef medallions using cooking string. After preheating the WMF ProfiPlus Contact grill, select the "Steak" program and place the medallions on the grill plate. Grill until the beeping sound is emitted for the "medium" level and the LED lights up white. Then season with coarse salt and coarse pepper.

For the sauce, gently caramelize the brown sugar. Add the cranberries, orange wedges and orange juice, and boil down until creamy. Season to taste with orange zest, salt and pepper. Halve the peaches and coat the cut surface with olive oil. Brown gently on the contact grill using the "Manual" program.


To blanch the sugar snap peas, bring a little water to the boil in a pot and simmer the washed sugar snap peas in it for around 3 minutes. Then quench in iced water. Make a light dressing for the blanched sugar snap peas using white balsamic vinegar, orange juice, salt, pepper and olive oil (with a pinch of sugar if desired) and mix together with the sugar snap peas..
Preparation time
45 minutes
---