Beetroot salmon with fried goats cheese on radicchio salad
---
---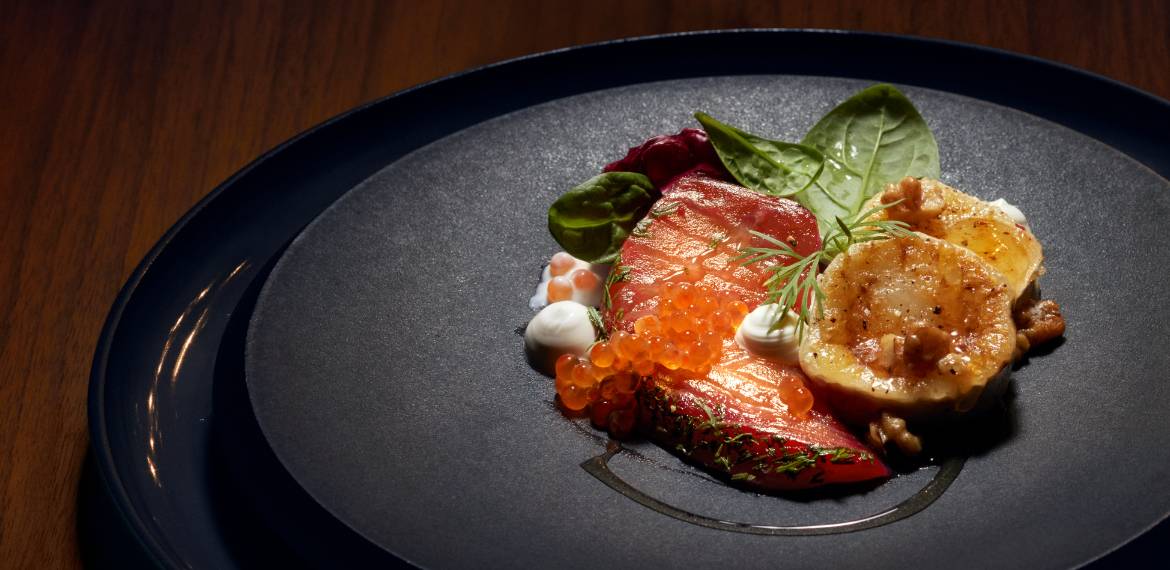 ---
Ingredients
400 g salmon fillet, skinless


For the marinade:

250 ml
beetroot juice
3 tbsp.
salt
3 tbsp.
brown sugar
5
crushed juniper berries
1 tsp.
five spices powder


For the fried goats cheese:

1
small goats cheese roll (e.g. "Chavroux"), sliced
1 tbsp.
olive oil
Coarse pepper
1 tsp.
butter
1
sprig of rosmary
80 g
crushed walnuts

For the salad:
1 small radicchio
100 g spinach

For the dressing:
3 tbsp. dark balsamic vinegar
3 tbsp. olive oil
1 tbsp. water
1 tsp. Dijon mustard
1 tbsp. honey
Salt, pepper

For the garnish:
80 g sour cream
Salmon caviar
---
Preparation
1. For the marinade, mix the sugar, salt and spices with the beetroot juice. Add the salmon, cover and marinate in the fridge for 3 hours.
2. For the salad, roughly pluck the radicchio, place in lukewarm water and soak for approx. 10 minutes, then dry it. Wash the spinach leaves briefly in cold water and put them back in the fridge.
3. For the dressing, put the vinegar, water, olive oil, mustard, salt, sugar and coarse pepper in a salad dressing shaker and shake vigorously.
4. Remove the salmon from the marinade and drain on a kitchen towel, then cut into thin slices.
5. Heat a medium-sized frying pan, add the oil and place the goats cheese slices in it. Season with salt and coarse pepper, and fry until nice and brown. The slices can be easily removed when they are fried. After turning, add the rosemary, a teaspoon of butter and the crushed walnuts and fry for around 3 minutes.
Garnish:
Marinate the salad with the dressing and arrange it on a plate. Place 2 to 3 cheese slices on the salad and arrange the salmon slices on top. Garnish with the sour cream, caviar and spinach leaves and enjoy.
---