Bibimbap-Bowl
Rice with glazed miso aubergines, edamame, carrots, enoki mushrooms, sesame-spinach, egg and kimchi
---
---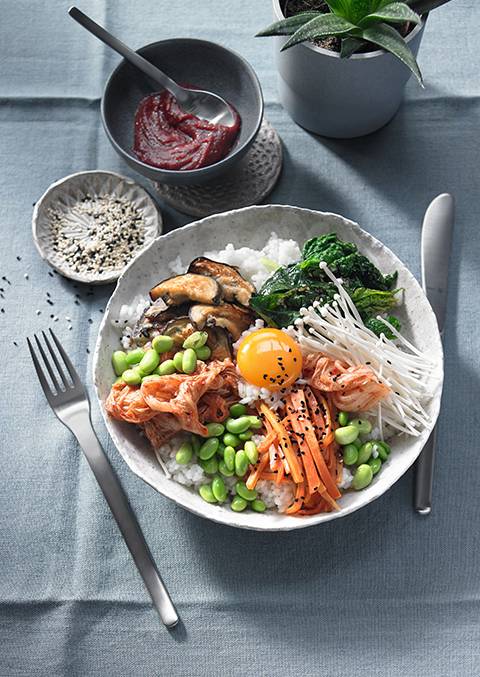 Ingredients:

2 medium-sized aubergines
3 tbsp. light miso paste
2 tbsp. brown sugar
1 tbsp. soy sauce
5–6 tbsp. oil
3 tbsp. sesame oil, roasted
2 thick carrots
Juice from 1/2 lime
1/2 tbsp. black cumin
1 kg leaf spinach
2 garlic cloves
2–3 tbsp. soy sauce
1 tbsp. sesame seeds
200 g edamame beans (green soya beans)
Salt
200 g sushi rice
100 g enoki mushrooms
4 eggs
4 tbsp. kimchi
4 tsp. Gochujang (Korean fermented chili paste)
---
Preparation
Pre-heat the oven to 180 °C top/bottom heat (160 °C for fan ovens). Stir the miso paste with the sugar, 1 tbsp. hot water, 1 tbsp. soy sauce, 2 tbsp. oil and 2 tbsp. sesame oil until smooth. Cut the aubergines in half laterally and then transversely into 0.5 cm thick slices. Mix with the marinade in the Fusiontec oven pan M and cook on the middle shelf of the pre-heated oven for approximately 20–30 minutes until soft. Remove the dish and leave to cool.

Peel the carrots and cut into 4 cm long, fine batons. Heat up 1 tbsp. oil in the Fusiontec frying pan 24 cm, add the carrot batons and stir occasionally for approximately 5 minutes until soft. Mix the lime juice and black cumin with 1 tbsp. sesame oil. Set aside.

Wash the leaf spinach, shake dry and cut into large pieces. Peel the garlic and cut into fine slices. Heat up 2 tbsp. oil in the Fusiontec frying pan 24 cm, briefly brown the garlic in the oil and then add the spinach and mix. Mix with 2–3 tbsp. soy sauce and sesame seeds and set aside.

Bring some lightly salted water to boil in the Fusiontec Functional saucepan 16 cm, add the edamame beans and cook for 3–4 minutes, covered. Drain the water through the lid of the Fusiontec Functional saucepan.

Prepare the sushi rice according to the instructions on the packaging (but without the vinegar!) using slightly salted water in the Fusiontec Aromatic low casserole 22 cm.

To serve, place the hot rice into 4 bowls and add the pre-prepared lukewarm vegetables, placing the kimchi and enoki mushrooms circularly on top.

Separate the eggs and add the raw egg yolk to the middle of the bowl. Daub a teaspoon of Gochujang on each bowl and serve immediately.

The Bibimbap is eaten by mixing all of the ingredients, the egg yolk and the chili paste in the bowl thoroughly! If you do not want a raw egg, you can prepare 4 fried eggs "sunny side up" and add these to the bowl.
Preparation time
1.5 hours
---