Boeuf Bourguignon
Braised beef and root vegetables in dark chocolate and red wine sauce
---
---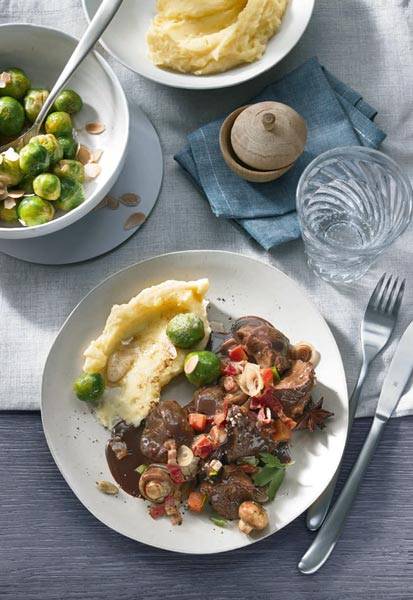 For the ragout:
1 kg beef for braising, e. g. from the shoulder
2 onions
1 bunch of soup greens
2 tbsp. concentrated butter
Salt, pepper
3 black cardamom capsules
2 star anise
1 cinnamon stick
1 tbsp. tomato puree
600 ml red wine (burgundy)
400 ml beef stock
200 g small mushrooms
80 g bacon pieces
1/2 bunch of parsley
50 g dark chocolate (at least 80 %)
1 tbsp. cornstarch for binding
For the brussels sprouts:
500 g fresh brussels sprouts
1-2 tbsp. butter
50 g flaked almonds
Nutmeg
For the puree:
800 g floury potatoes
2 tbsp. butter
150 ml milk
---
Preparation
Dice the meat into large cubes. Peel the onions and cut into fine slices. Peel the celery and carrots, wash and scrub the leek. Cut all of these into large pieces.
Heat up the concentrated butter in the Fusiontec roasting pan, add the meat gradually in portions, stirring occasionally and sear. Season with salt and pepper throughout. Add the soup vegetables, onions and herbs, searing and seasoning these too. Stir in the tomato puree and cook for 30 seconds. Douse the mixture with 300 ml red wine and leave to boil down. Add the rest of the wine and then leave this to boil down too. Add the meat and beef stock, then place the covered Fusiontec roasting pan into the preheated oven at 160 °C top/bottom heat to cook for approx. 1.5 hours.
Cut the mushrooms in half. Cut the bacon pieces into strips and fry in the Fusiontec frying pan 24 cm. Then add the mushrooms. Place the mixture in a bowl and set aside.
Cut the brussels sprouts in half and cook in slightly salted water using the covered Fusiontec Aromatic low casserole 22 cm until al dente. Finally, pour out the water, rinse with cold water and set aside.
For the puree, peel, dice, wash and then cook the potatoes in well-salted water using a Fusiontec
Functional high casserole 24 cm. Pour out the water through the lid of the high casserole, add butter and milk and mash the mixture into a puree using a potato masher. Season with nutmeg and keep warm.
Place the brussels sprouts and butter in the Fusiontec frying pan 24 cm and fry, stirring occasionally, until
slightly brown. Add the flaked almonds and fry slightly. Season with salt, pepper and nutmeg.
Take the ragout out from the oven, break the chocolate into pieces and melt into the sauce. If desired,
set by stirring in some cornstarch, then cook again briefly on the stove! Add the mushrooms and bacon, season the ragout to taste and serve with the creamed potatoes and brussels sprouts. Sprinkle with parsley to garnish.
Preparation time
2.5 hours incl. cooking time
---