Product details
Highlights
Total length: 32 cm, blade length: 19 cm - item number: 1889506032 - Other knife types and set combinations are available for this knife collection.
Material: Forged blade made of rust-free and acid resistant speciality blade steel. Long lasting sharpness thanks to the hardened blade. Handle without grooves made of high-quality rust-free Cromargan stainless steel.
Bread knife with double-serrated blade: Cuts completely straight without sliding of the blade in a slant.
Ergonomically shaped handle and perfectly balanced weight of blade and handle for comfortable handling. Jointless workmanship makes it perfectly sanitary - no noticeable transitions between blade, guard and handle. Cleaning the knife: Hand-wash.
Made in Germany - Knife in premium quality, manufactured at our own blade forge in Germany.
Product description
Wenn die Klinge eines Brotmessers durch frisches Brot gleitet, erst die knusprige Kruste aufbricht und dann den Laib Scheibe für Scheibe schneidet, so ist das ein Genuss - von der Vorfreude auf den Verzehr ganz zu schweigen. Die langen und scharfen Wellenschliffklingen der WMF Brotmesser parieren mühelos alle Brotsorten, weiche Teigwaren wie zum Beispiel Croissants und eignen sich auch für das Schneiden von weichen Früchten. Keine Frage, ein gutes Brotmesser gehört zur Grundausstattung jeder Küche. Die WMF Modelle variieren je nach Kollektion in Optik und Größe. Besonders empfehlenswert sind Brotmesser, die mit der Performance Cut Technologie veredelt wurden. Sie schneiden dank ihrer großen und lang anhaltenden Schärfe jedes noch so knusprige Brot zuverlässig. Übrigens: Nur die Brotmesser von WMF besitzen den patentierten Doppelwellenschliff. Das bedeutet, beide Klingenseiten sind mit einem Wellenschliff versehen, weshalb die Klinge beim Schneiden nicht schräg, sondern gerade nach unten zieht.
Sie sind ein Highlight in jeder Küche: die Messer aus der Grand Gourmet Kollektion. Komplett aus Edelstahl gefertigt, überzeugen sie durch schickes Aussehen mit exklusiven Extras: So liegen die Cromargan® Griffe sicher in der Hand, und ihre fugenlose Verarbeitung sorgt für optimale Hygiene. Beim Schneiden sorgt der Kropf für die nötige Balance zwischen Griff und Klinge, die dem Ausdruck "messerscharf" mehr als gerecht wird: Dafür wird in der Schmiede hochwertiger Spezialklingenstahl über die gesamte Klingenlänge traditionell bearbeitet und anschließend mit der Performance Cut Technologie veredelt. Zur Grand Gourmet Serie gehören neben Klassikern wie Allzweck-, Koch- und Brotmesser unter anderem auch Filier-, Santoku- und chinesische Koch- und Hackmesser.
Specifications
| | |
| --- | --- |
| SKU: | 3201002725 |
| Alte Art. Nr.: | 18.8950.6032 |
| EAN | 4000530676771 |
| Brand | WMF |
| Collection | Grand Gourmet |
| Size sets | 1-pc. |
| Material | Special blade steel, forged |
| Product properties | Performance Cut, Double serrated edge |
| Blade-length (cm) | 19 |
| Color | stainless steel |
| Care | Wash by hand |
| Designer | Makio Hasuike |
| Design Award | Busse Longlife Design Award Busse Design Ulm GmbH 2005, Design Plus Messe Frankfurt 1994, Ernennung Compasso d'oro 1995, Internationaler Designpreis Design Center , Prix de Couverts Maison & Objet Paris 1997, red dot award Design Zentrum NRW 1994 |
Performance Cut
WMF Performance Cut Technology
Cut for as long as you want. Your knife always stays uniquely sharp.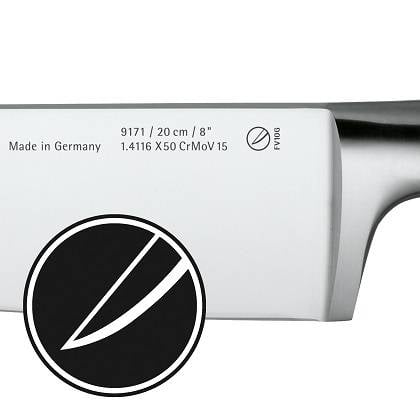 What does Performance Cut Technology mean?
It is the combination of the traditional forging process with the latest precision technology. It is, for instance, a new, innovative finishing of the steel and a high-precision sharpening process of the blades. This results in knives with an optimal cutting angle, which remain sharp for an unbelievably long time.
Cut for as long as you want. Your knife always stays uniquely sharp.
Performance Cut combines traditional forging methods with the latest developments in precision technology.

Performance Cut technology for outstanding and long-lasting sharpness.

Blades made of forged special blade steel.

Sturdy and corrosion-resistant.
Traditional forging craft and the latest 'Made in Germany' technology
Traditional forging craft and the latest 'Made in Germany' technology
WMF follows the tradition of cutlers and uses particular care for this craft. From 2014, the company will combine the traditional art of forging with the latest precision technology in manufacturing. Tests show that WMF household knives that are made with this Performance Cut Technology exceed the standard for cutting performance by double.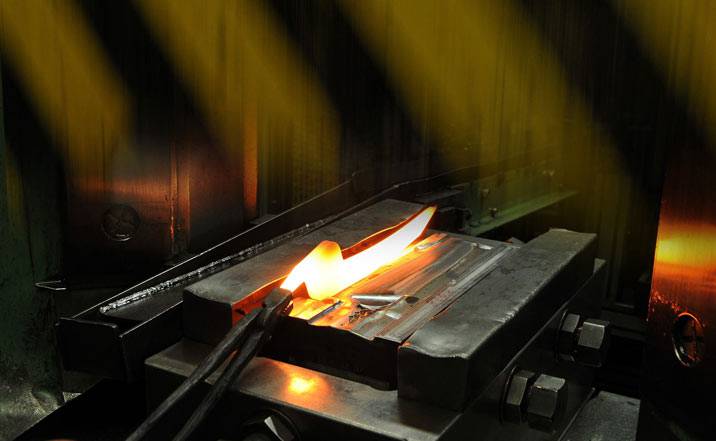 In Hayingen, a small town in the middle of the Swabian Alb, WMF operates one of the largest blade forges in Germany. Annually, hundreds of thousands of knives are made in the company's own factory according to the traditional drop forging process. In this process, blades made of special blade steel are worked over the whole length with the forging hammer. About 30 work steps are required before the customer is holding a knife of the highest quality in their hands: From the examination of the raw material to the packaging and shipping of the knife.
Every work step is subject to strict quality controls. Only in this way can WMF ensure the high quality standard at every phase of the manufacturing process. The result is 'Made in Germany' knife blades that are phenomenally sharp, precise in their cut and retain their cutting performance for a long time.
Performance Cut Technology WMF knife series
View Reviews (0)

Your review