Caramelized onion tarte tatin
Onion baked in sweet and salted caramel with thyme in a crispy puff pastry, served with green salad
---
---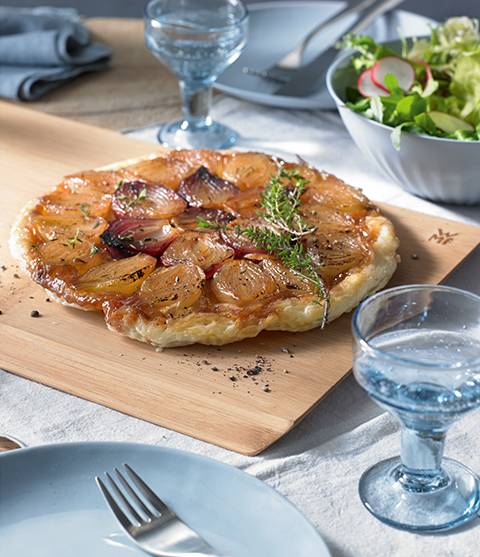 Ingredients:
0,1 g saffron threads
250 g risotto rice
1 onion
2 tbsp. butter
100 ml white wine
1.2 l chicken stock
Salt, pepper
60 g parmesan
500 g small onions (white and red)
10 sprigs of thyme
80 g cane sugar
30 ml port wine
1 tbsp. butter
1 sheet of puff pastry (from the chilled section, approx. 300 g)
---
Preparation
Peel the onions and cut the root ends flat. Then cut in half laterally. Pick the thyme leaves from the stems.

Caramelize half of the sugar with 1 tbsp. water in the Fusiontec stewing pan 28 cm. Douse with portwine, bring to boil and simmer whilst stirring until the sugar has dissolved. Add the onions and simmer at a mild heat for 10 minutes. Remove the pan from the stove, put the onions through a sieve and collect the juice.

Reduce the port wine juice in the Fusiontec Mineral saucepan 16 cm at a mild heat for approx. 20 minutes, uncovered, until it forms a thick syrup. Leave to cool.

Pre-heat the oven to 180 °C top/bottom heat.

Melt the butter in the Fusiontec stewing pan 28 cm, sprinkle the rest of the sugar and thyme evenly across the bottom of the pan. Place the onions inside closely together, with the cut surface facing downwards. Roll out the puff pastry and place onto the onions. Press the pastry around the edge of the pan.

Bake the tarte without the lid of the Fusiontec stewing pan on the 2nd shelf from the bottom on the grate in the pre-heated oven for approx. 45 minutes until it is golden brown. Remove, leave to cool then carefully turn it onto a plate. Drizzle with the port wine syrup and serve.

A fresh green salad and chilled white wine or rose wine go well with this dish. Stewing pan 28 cm Mineral saucepan 16 cm.


Preparation time
1.5 hours, incl. cooking time
---