Product details
Highlights
Total length: 29.5 cm, blade length: 17 cm - item number: 1880339998 - Other knife types and set combinations are available for this knife collection. All knives from this collection are packaged in a precious gift box made of wood.
Material: Damasteel forged speciality blade steel - 120 layers of speciality steel for extraordinary durability and long lasting sharpness. Rust-free and acid resistant. Handle without grooves made of high-quality rust-free Cromargan stainless steel.
Performance Cut technology: Combination of traditional forging processes with state-of-the-art precision technology for extraordinary long lasting sharpness.
Ergonomically shaped handle and perfectly balanced weight of blade and handle for comfortable handling. Jointless workmanship makes it perfectly sanitary - no noticeable transitions between blade, guard and handle. Cleaning the knife: Hand-wash.
Made in Germany - Knife in premium quality, manufactured at our own blade forge in Germany. All Damasteel knives are packaged in a precious gift box made of wood.
Product description
Ob Rind, Hühnchen oder Lamm, ob roh, gekocht oder gebraten: Mit einem Fleischmesser können Sie jedes Fleisch mühelos schneiden oder tranchieren. Die Messer haben eine leicht gebogene, spitz zulaufende Klinge, die zwischen 15 und 30 Zentimeter lang ist. Diese Länge ist optimal, um ohne großen Widerstand durch die dicksten Braten zu gleiten. Das Beste: Fleischmesser schneiden so exakt, dass sie die feinen Fasern sauber durchtrennen und der wertvolle Fleischsaft erhalten bleibt. WMF Fleischmesser sind präzise geschliffen und ermöglichen somit nicht nur eine hohe Schärfe, sondern auch eine lange Lebensdauer. Es gibt sie in verschiedenen Ausführungen, für Einsteiger und für Profis. Übrigens: Fleischmesser eignen sich auch hervorragend für die Zubereitung von Fisch.
Was für Messer! Klingen, so schön, als kämen sie direkt aus einer historischen Damaszener Schmiede, und so fest, dass ihre Schärfe von beachtenswerter Dauer ist. Möglich wird dies durch modernste Technologie: Sie verbindet verschiedene Spezialstähle zu einem einzigen Klingenstahl, der aus vergleichsweise 120 Schichten besteht und im traditionellen Schmiedeverfahren weiterverarbeitet wird. Die Messer der WMF Damasteel Serie sind von außergewöhnlicher Festigkeit und können daher in einem extrem spitzen Winkel geschliffen werden. Das Ergebnis: überragende, lang anhaltende Schärfe. Für die richtige Balance zwischen Klinge und ergonomisch geformtem Edelstahlgriff sorgt ein geschmiedeter Kropf. Die charakteristische Maserung der Klinge ergibt sich beim Verarbeiten der verschiedenen Ausgangsmaterialien – und verleiht der Kollektion einen Hauch von Luxus. Zu dieser Liebhaberserie gehören ein Allzweck-, ein Koch-, ein Fleisch- und ein Santokumesser.
Specifications
| | |
| --- | --- |
| SKU: | 3201002707 |
| Alte Art. Nr.: | 18.8033.9998 |
| EAN | 4000530676672 |
| Brand | WMF |
| Collection | Damasteel |
| Size sets | 1-pc. |
| Material | Damasteel special blade steel forged (120 sheets) |
| Material property | Stainless steel |
| Product properties | Performance Cut |
| Production | Made in Germany |
| Length (cm) | 29.5 |
| Blade-length (cm) | 17 |
| Color | stainless steel |
| Care | Wash by hand |
Performance Cut
WMF Performance Cut Technology
Cut for as long as you want. Your knife always stays uniquely sharp.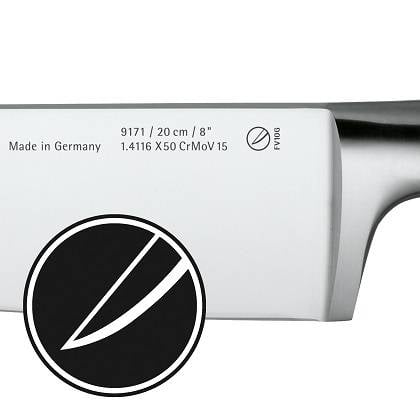 What does Performance Cut Technology mean?
It is the combination of the traditional forging process with the latest precision technology. It is, for instance, a new, innovative finishing of the steel and a high-precision sharpening process of the blades. This results in knives with an optimal cutting angle, which remain sharp for an unbelievably long time.
Cut for as long as you want. Your knife always stays uniquely sharp.
Performance Cut combines traditional forging methods with the latest developments in precision technology.

Performance Cut technology for outstanding and long-lasting sharpness.

Blades made of forged special blade steel.

Sturdy and corrosion-resistant.
Traditional forging craft and the latest 'Made in Germany' technology
Traditional forging craft and the latest 'Made in Germany' technology
WMF follows the tradition of cutlers and uses particular care for this craft. From 2014, the company will combine the traditional art of forging with the latest precision technology in manufacturing. Tests show that WMF household knives that are made with this Performance Cut Technology exceed the standard for cutting performance by double.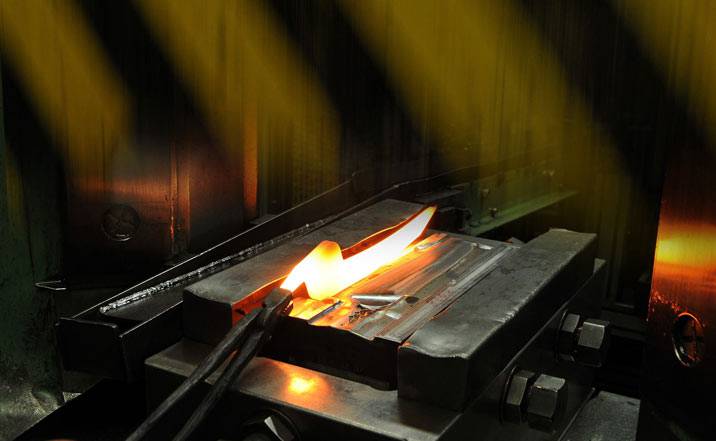 In Hayingen, a small town in the middle of the Swabian Alb, WMF operates one of the largest blade forges in Germany. Annually, hundreds of thousands of knives are made in the company's own factory according to the traditional drop forging process. In this process, blades made of special blade steel are worked over the whole length with the forging hammer. About 30 work steps are required before the customer is holding a knife of the highest quality in their hands: From the examination of the raw material to the packaging and shipping of the knife.
Every work step is subject to strict quality controls. Only in this way can WMF ensure the high quality standard at every phase of the manufacturing process. The result is 'Made in Germany' knife blades that are phenomenally sharp, precise in their cut and retain their cutting performance for a long time.
Performance Cut Technology WMF knife series
View Reviews (0)

Your review