Product details
Highlights
Total length: 33.5 cm, blade length: 20 cm - item number: 1880399998 - Other knife types and set combinations are available for this knife collection. All knives from this collection are packaged in a precious gift box made of wood.
Material: Damasteel forged speciality blade steel - 120 layers of speciality steel for extraordinary durability and long lasting sharpness. Rust-free and acid resistant. Handle without grooves made of high-quality rust-free Cromargan stainless steel.
Performance Cut technology: Combination of traditional forging processes with state-of-the-art precision technology for extraordinary long lasting sharpness.
Ergonomically shaped handle and perfectly balanced weight of blade and handle for comfortable handling. Jointless workmanship makes it perfectly sanitary - no noticeable transitions between blade, guard and handle. Cleaning the knife: Hand-wash.
Made in Germany - Knife in premium quality, manufactured at our own blade forge in Germany. All Damasteel knives are packaged in a precious gift box made of wood.
Product description
The chef's knife is the jack of all trades amongst knives: its wide, strong blade glides smoothly through fish and meat, dicing even the hardest of vegetables. The chef's knife also makes easy work of mincing herbs and chopping up nuts: simply place the tip of the knife on the cutting board and rock the blade up and down. And as if that weren't enough, the broadside of the knife can be used for tenderising meat to make sure it is evenly flat, for example like a schnitzel. No wonder this highly versatile knife is regarded as a kitchen staple. WMF offers a variety of models with varying blade lengths (13, 15 and 20 centimetres) and characteristics for each knife collection. Your new favourite knife is sure to be amongst them.
Knives like no other! Blades so fine that they appear to have come straight from an old Damascus forge and so strong that they remain sharp for a remarkably long time. All made possible by state-of-the-art technology: various special steels are combined to create a single blade steel, which consists of relatively 120 layers and is further processed using a traditional forging method. The knives in the WMF Damasteel series are exceptionally strong and can thus be ground to an extremely sharp angle. The result: outstanding, long-lasting sharpness. A forged bolster ensures the perfect balance between the blade and the ergonomically shaped stainless steel handle. The characteristic pattern of the blade results from the various raw materials processed – and adds a touch of luxury to the collection. This popular series includes an all-purpose knife, a chef's knife, a carving knife and a Santoku knife.
Specifications
| | |
| --- | --- |
| SKU: | 18.8039.9998 |
| EAN | 4000530676719 |
| Brand | WMF |
| Collection | Damasteel |
| Size sets | 1-pc. |
| Material | Damasteel special blade steel forged (120 sheets) |
| Product properties | Performance Cut |
| Production | Made in Germany |
| Length (cm) | 33.5 |
| Blade-length (cm) | 20 |
| Color | stainless steel |
| Care | Wash by hand |
Performance Cut
WMF Performance Cut Technology
Cut for as long as you want. Your knife always stays uniquely sharp.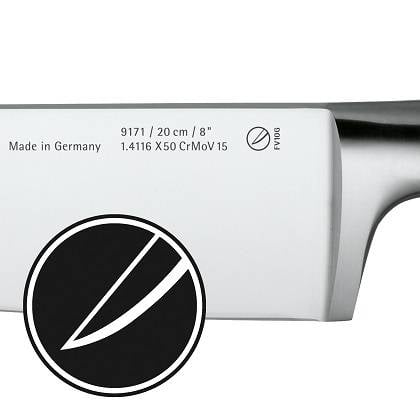 What does Performance Cut Technology mean?
It is the combination of the traditional forging process with the latest precision technology. It is, for instance, a new, innovative finishing of the steel and a high-precision sharpening process of the blades. This results in knives with an optimal cutting angle, which remain sharp for an unbelievably long time.
Cut for as long as you want. Your knife always stays uniquely sharp.
Performance Cut combines traditional forging methods with the latest developments in precision technology.

Performance Cut technology for outstanding and long-lasting sharpness.

Blades made of forged special blade steel.

Sturdy and corrosion-resistant.
Traditional forging craft and the latest 'Made in Germany' technology
Traditional forging craft and the latest 'Made in Germany' technology
WMF follows the tradition of cutlers and uses particular care for this craft. From 2014, the company will combine the traditional art of forging with the latest precision technology in manufacturing. Tests show that WMF household knives that are made with this Performance Cut Technology exceed the standard for cutting performance by double.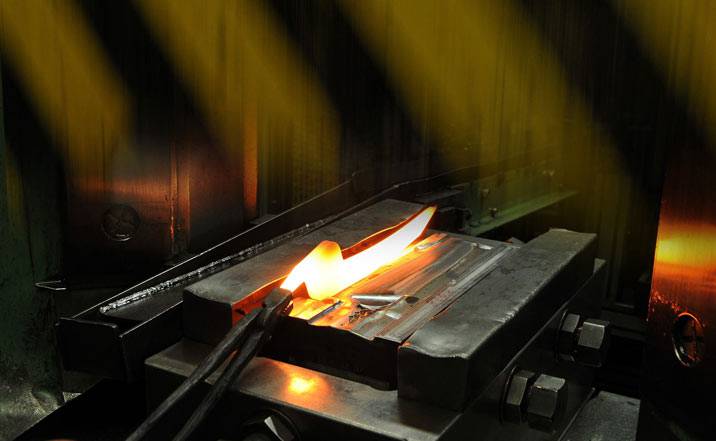 In Hayingen, a small town in the middle of the Swabian Alb, WMF operates one of the largest blade forges in Germany. Annually, hundreds of thousands of knives are made in the company's own factory according to the traditional drop forging process. In this process, blades made of special blade steel are worked over the whole length with the forging hammer. About 30 work steps are required before the customer is holding a knife of the highest quality in their hands: From the examination of the raw material to the packaging and shipping of the knife.
Every work step is subject to strict quality controls. Only in this way can WMF ensure the high quality standard at every phase of the manufacturing process. The result is 'Made in Germany' knife blades that are phenomenally sharp, precise in their cut and retain their cutting performance for a long time.
Performance Cut Technology WMF knife series
View Reviews (1)

Your review