Chinese mandarin pancakes with Peking duck breast
Filled pancakes with Pekin duck breast, cucumber, carrot, spring onion, plum and hoisin sauce.
---
---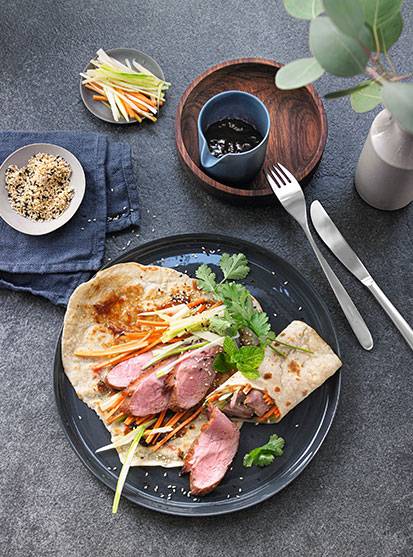 For the Peking duck breast:
2 Barberie duck breast fillets
30 g ginger
3 tbsp. honey
3 tbsp. soy sauce
1 tsp. 5-spice powder
50 ml mirin
For the pancakes:
350 gflour, type 405
Salt
1 tbsp. sesame oil, roasted
For the filling:
50 g baking plums
1/2 salad cucumber
2 thick carrots
1 bunch of spring onions
2 tbsp. sesame seeds
1 tbsp. black sesame
6 tbsp. hoisin sauce
---
Preparation
Cut into the skin of the duck breast. Peel the ginger, grate finely. Stir 1 tbsp. honey, the soy sauce, herbs and mirin in a bowl and place the duck in with the meat side down. Marinate for 60 minutes.
Mix the flour and salt in a bowl, add 250 ml boiling water. Mix into a smooth dough. Leave to sit for 1 hour.
Pre-heat the oven to 80 °C top/bottom heat. Heat up the oil in the Fusiontec frying pan 24 cm and sear the duck breast on the skin side. When the skin is crispy, turn over and fry for 3–4 minutes at medium heat on the meat side. Place the duck breast with the skin facing upwards in the Fusiontec oven pan M and cook for 60 minutes until pink.
Bring the rest of the marinade to boil in the Fusiontec Functional saucepan 16 cm. Add the diced baking plums and simmer for 5 minutes. Then leave to cool and puree.
Roll the dough on a flour-coated surface and divide into 24 portions. Roll each portion into a ball and coat half with a little sesame oil. Place an unoiled dough ball onto each oiled dough ball and press flat. Roll out the balls into thin pancakes.
Heat up the Fusiontec frying pan 24cm and place the pancake inside (without oil) to bake in both sides for 1-2 minutes, until they puff up. Leave to cool on a plate. Pull the pancakes apart, stack them and cover.
Peel the cucumber and carrots and cut into fine stripes together with the spring onion. Place the vegetables in a bowl and chill. Mix the sesame and black sesame and fill the hoisin and plum sauce into small bowls.
Remove the oven pan from the oven and switch on the oven grill. Coat the skin side of the duck with honey and grill in the oven for 5-6 minutes until the skin is crispy. Then leave to cool and cut into thin strips.
Finally, coat the pancake with the sauce and fill with vegetables strips and duck meat. Sprinkle with sesame seeds and roll together.
Preparation time
2.5-3 hours incl. rising and cooking times
---