Classic Muckalica with grilled pork fillet, onion and pepper
---
---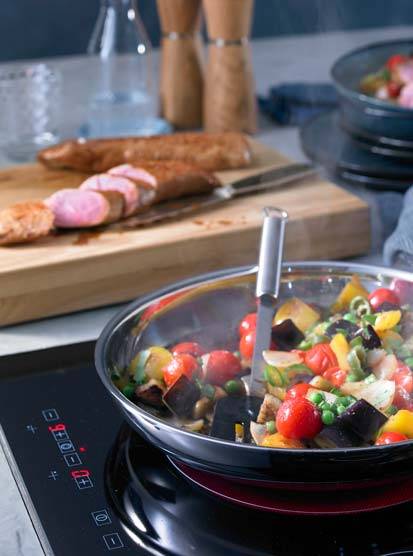 For the vegetables:
1 kg pea pods, alternatively 200 g frozen peas
Salt
1 bunch lovage
200 g cherry tomatoes
3 yellow peppers
100 g onions
1 fresh garlic clove
2 green chili peppers
400 g aubergine
80 ml olive oil in total
Black pepper, freshly ground
For the meat:
4 pork fillets, 220 g each, e.g. from the "Mangalitza" pig
Paprika flakes
---
Preparation
For the vegetables, remove the peas from the pods and briefly blanch them in salted boiling water, then drain. Pluck the lovage – except for a few nice sprigs for garnishing – from the stems and chop finely. Wash the cherry tomatoes and peppers: Then remove the stalks and core from the yellow peppers and slice thinly. Peel the onion and garlic and chop finely. Finely chop the chili peppers, removing most of the core.
Wash and dry the aubergines, cut into 2 cm cubes and fry in a frying pan in 40 ml olive oil, then remove. Add the pepper to the frying pan and fry in 20 ml olive oil, then reduce the heat and braise for 10 minutes, stirring occasionally. Then add the aubergines, cherry tomatoes, garlic and peas and cook briefly, then season with lovage, salt and pepper.
For the meat, coat the pork fillet with the remaining olive oil and salt it. Cook on the barbecue (or in a grill pan) over a medium heat for about 10-12 minutes until pink, turning occasionally, then sprinkle with paprika flakes and serve. Arrange with the vegetables and garnish with the remaining thyme.
Preparation time
1.25 hours
---