Colourful tomato quiche with wild herb salad
---
---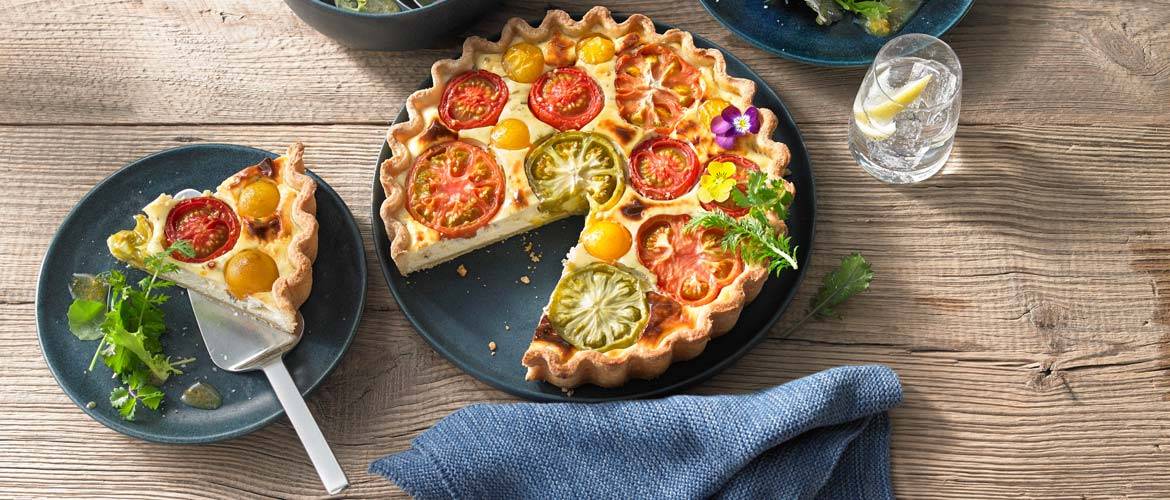 For the dough:
250 g wheat flour, type 550
150 g butter
50 g freshly grated parmesan
30 ml cold water
1/2 tsp. salt
1 egg (L)
Dried pulses, for weighing down
For the filling:
3 Zweige sprigs rosemary
200 g creamy sheep's cheese
200 g soft cheese, double cream cheese
2 eggs (L)
Black pepper, freshly ground
500 g of colourful tomatoes, roughly the same size
For the dressing/salad:
1 orange, untreated
15 ml honey
30 ml white wine vinegar
60 ml olive oil
150 g wild herb salad mix, depending on season/availability, also with edible flowers if you wish
---
Preparation
For the dough, knead the flour, butter, parmesan, water and salt in a food processor, then add the egg. Roll out the dough on a floured surface and line a quiche pan (28 cm diameter) with it, then leave to chill for at least 30 minutes.
In the meantime, for the filling, pluck the rosemary off the stems and chop finely. Mix the sheep's cheese with the soft cheese, rosemary and eggs, then season with salt and pepper. Rinse the tomatoes in cold water and roughly halve them.
Preheat the oven to 180°C (170°C fan-assisted oven). Cover the quiche dough first with baking paper, then place dried pulses on the paper and bake in the oven for 15 minutes on the bottom shelf. Then take out of the oven, remove the baking paper and pulses, pour in the filling, then place the tomatoes (halved with the cut surface facing upwards) in the quiche and bake in the oven for another 25 minutes on the bottom shelf. Remove from the oven and leave to cool down a little.
Meanwhile, for the dressing, wash the orange in hot water and dry it: Finely grate the peel and squeeze out the juice. Shake both vigorously together with the vinegar, honey, oil, salt and pepper, and season again. Sort, wash and spin dry the wild herbs. Shortly before serving, mix together with the dressing and arrange next to the lukewarm quiche.
Preparation time
1 hour
---