Crostini with marinated sardines
Fresh sardines, fried and marinated on toasted farmhouse bread with radishes, fennel and babyleaf salad.
---
---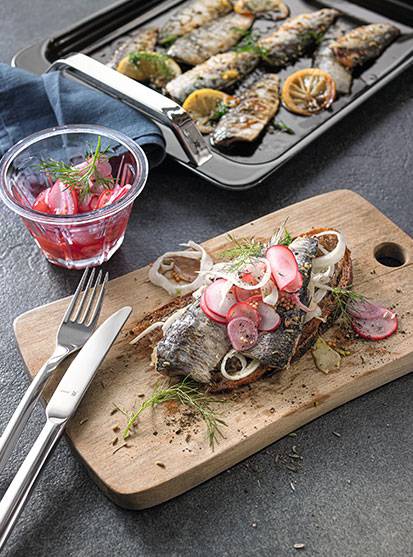 For the pickles:
180 ml cider vinegar
180 ml white wine vinegar
40 g cane sugar
1/2–1 tbsp. salt
1 tbsp. mustard seed
1 bunch of radishes
2 pink shallots
For the sardines:
1 kg fresh sardines, ready-to-cook
1 tbsp. fennel seeds
2 organic lemons
Salt, pepper
4 tbsp. olive oil
To serve:
8 slices of Wholegrain (Sylt bread or similar)
1 garlic clove
1 fennel with greens
---
Preparation
For the pickle marinade, bring both vinegars to boil with 180 ml water, sugar, salt and mustard seeds in the Fusiontec Mineral high casserole 20 cm. Meanwhile, clean and wash the radishes and cut into wafer thin slices. Peel the shallots and cut into fine rings. Add the prepared vegetables to the liquid, remove the pot from the stove and set aside to cool.
Rinse the sardines in cold water and dry with kitchen roll. Crush the fennel seeds in a mortar. Wash the lemons, finely grate the rind and squeeze out the juice.
Salt the sardines on both sides, season lightly with salt and pepper and sprinkle with the fennel seeds.
Heat up a little oil on the Fusiontec Teppanyaki (on the grill) and grill the sardines on both sides for approx. 3 minutes. Drizzle with a little lemon juice and plate up.
Cut the bread slices in half, place on the Fusiontec Teppanyaki and toast on both sides, drizzling a little oil over the top. Remove, set aside to cool and rub with a sliced garlic clove. Clean the fennel, place the greens aside and slice the fennel head finely. Knead thoroughly in a bowl with a little lemon juice, lemon rind, salt and the rest of the olive oil and briefly leave to steep.
To serve, top the bread with a little fennel salad, place the sardines on top, add a spoonful of the radishes and garnish with some fennel greens and lemon rind.
Preparation time
1.5 hours
---