Product details
Highlights
Content: 6 each fish forks and fish knives. Length: 21.0- 19.0 cm. - item number: 1228356346
Material: Cromargan protect stainless steel polished. Rust-free, dishwasher safe, dimensionally stable, sanitary, acid resistant, indestructible and scratch resistant.
Extremely scratch resistant: Silverware stays like new for many years and does not indicate any traces of use even when intensively used on a daily basis. WMF Cromargan Protect silverware undergoes a patented process that is exclusive at WMF to strengthen the resistance to traces of use.
Made by WMF - Production at our own WMF plant in Heshan.
Design: WMF Atelier (Peter Ramminger).
Product description
Für Liebhaber frischer Fischgerichte ist das Fischbesteck eine gleichermaßen hilfreiche wie stilvolle Ergänzung des Standardbestecks. Anders als Fleisch wird der Fisch auf dem Teller nicht geschnitten, sondern durch sanften Druck mit dem Fischbesteck geteilt und portioniert. Das Fischmesser dient dabei der Trennung von Gräten. Die Fischgabel wiederum ist etwas breiter als eine Menuegabel und hat kürzere Zinken – beides dient der besseren Aufnahme des Fischs.
Bei diesem Besteck vereinen sich Gegensätze: So ist der Hals des Stiels zierlich und sanft gewölbt, das Ende hingegen breit und flach. Der plastisch betonte Übergang zum Vorderteil fungiert als hübsches Dekorelement. Neben diesen optischen Merkmalen zeichnet sich das Besteck Ambiente außerdem durch eine aufwendige Materialverarbeitung und eine angenehme Haptik aus. Es ist aus poliertem Cromargan protect® gefertigt, was bedeutet, dass alle Teile extrem kratzbeständig sind und daher selbst nach Jahren noch aussehen wie neu. Dank seiner Unkompliziertheit eignet sich das WMF Besteckmodell, das von Designer Peter Ramminger entworfen wurde, für den alltäglichen Gebrauch und setzt ebenso auf einer festlich gedeckten Tafel stilvolle Akzente.
Specifications
| | |
| --- | --- |
| SKU: | 3201002303 |
| Alte Art. Nr.: | 12.2835.6346 |
| EAN | 4000530663436 |
| Brand | WMF |
| Collection | Ambiente |
| Size sets | 12-pcs. |
| Scope of delivery | 6 x fish fork, 6 x fish knives |
| Material | Cromargan protect |
| Length (cm) | 21| 19 |
| Color | stainless steel |
| Care | Dishwasher safe |
| Designer | WMF Atelier (Peter Ramminger) |
Cromargan protect
WMF Cromargan® Protect Technology
Cutlery that always looks as good as new even after years of use – no longer just wishful thinking but now a reality. WMF Cromargan protect means the surface of the cutlery items always looks flawless. The passing of time hardly leaves a trace, even after extended use.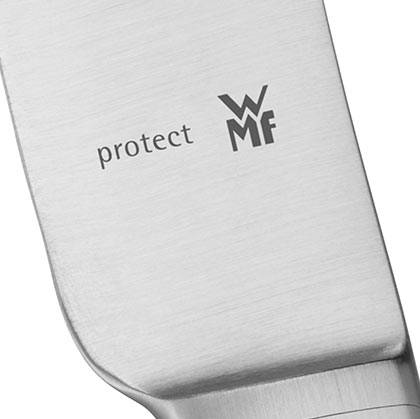 When WMF was the first company to use stainless steel for the manufacturing of cutlery and household appliances more than 80 years ago, this marked the start of one of the most progressive chapters in the history of cooking and housekeeping. The material, which is known by the name Cromargan®, cannot tarnish, is rustproof, acid-resistant, unbreakable, easy to clean and so is extremely durable.
150 years after its first cutlery model was launched onto the market, in 2009 WMF introduced cutlery finished with Cromargan protect. Cromargan protect is produced using a thermochemical treatment process. This involves adding nitrogen to stainless steel at high temperatures, which penetrates into the material and results in a much harder surface after it cools down. This makes the material extremely resistant against signs of wear, and means it still looks as good as new even after years of use. Even intensive use and frequent cleaning in the dishwasher has no adverse effects. Polished surfaces never lose their shine, and matt surfaces stay matt. A brilliant innovation, which is patented and internationally protected by the WMF brand.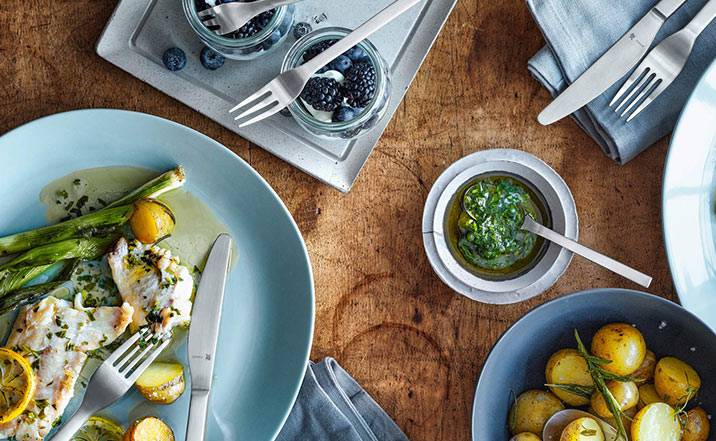 Your cutlery stays looking as beautiful as on the day you bought it.
Extremely resistant to scratches and signs of wear and tear

Polished surfaces stay shiny, matt finishes stay matt.

Knife blades made of high-grade special blade stay sharp for longer

Rustproff and dishwasher safe.

Unique WMF design that gives you pleasure every day.
View Reviews (0)

Your review