Product details
Highlights
Inhalt: 66-teilig für 12 Personen: je 12 Gabeln, Tafelmesser, Löffel, Kuchengabeln, Tee-/ Kaffeelöffel, 1 Salatbesteck (2-teilig), 1 Servierlöffel, 1 Portionsschöpfer, 1 Serviergabel, 1 Tortenheber - Artikelnummer: 1161006391
Material: Cromargan protect Edelstahl teilmattiert. Rostfrei, spülmaschinengeeignet, formstabil, hygienisch, säurefest, unverwüstlich und kratzbeständig.
Design: Köhler & Wilms. Designpreis: red dot award, Good Design
Hochwertige Messerklinge aus geschmiedeten Klingenstahl für längere Klingenschärfe
Product description
Ganz klar: Dieses Set ist für die große Tafel gedacht. Es bietet Besteck für zwölf Personen – Menuegabel, -messer und -löffel sowie Kuchengabel und Kaffeelöffel – und darüber hinaus nützliches Zubehör. Dazu gehören ein zweiteiliges Salatbesteck, ein Servierlöffel und eine Serviergabel, ein Portionsschöpfer sowie ein Tortenheber. Natürlich ist das Set in verschiedenen WMF Designs erhältlich, kann mit passenden Ergänzungsteilen erweitert werden und wird Ihnen dank seiner Hochwertigkeit ein gleichermaßen schöner wie dauerhafter Begleiter sein.
So schlicht, so schön: Das WMF Besteck Lyric aus dem Designstudio Köhler & Wilms überzeugt mit klaren Konturen und harmonischen Proportionen. Dank seiner ausgewogenen Materialstärke und der präzisen Verarbeitung der Kanten liegt es angenehm in der Hand. Optisches Highlight ist die Teilmattierung des Bestecks, bei der der mattierte Stiel in schönem Kontrast zum polierten Vorderteil steht. Kurz: Wer einen zeitlosen, klassischen Stil mag, wird dieses Besteck lieben.
Specifications
| | |
| --- | --- |
| SKU: | 3201002019 |
| Alte Art. Nr.: | 11.6100.6391 |
| EAN | 4000530687647 |
| Brand | WMF |
| Collection | Lyric Plus |
| Size sets | 66-pcs. |
| Scope of delivery | 12 x table spoon, 12 x table fork, 12 x table knife, 12 x teaspoon, 12 x cake fork, 1 x salad server, 2-piece, 1 x serving spoon, 1 x soup ladle*, 1 x serving fork, 1 x cake server* (* = cutlery piece is Cromargan) |
| Material | Cromargan protect |
| Material property | matt |
| Knife art | knife with inserted, forged blade |
| Color | stainless steel |
| Care | Dishwasher safe |
| Designer | Köhler & Wilms |
| Design Award | Good Design The Chicago Athenaeum 2003, red dot award Design Zentrum NRW 2003 |
Cromargan protect
WMF Cromargan® Protect Technology
Cutlery that always looks as good as new even after years of use – no longer just wishful thinking but now a reality. WMF Cromargan protect means the surface of the cutlery items always looks flawless. The passing of time hardly leaves a trace, even after extended use.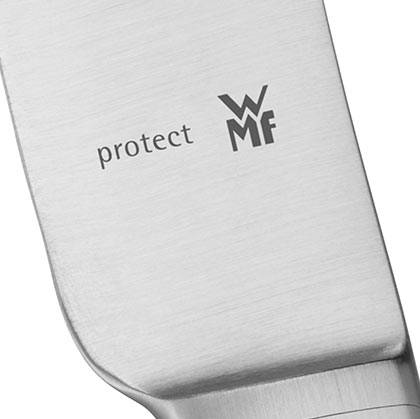 When WMF was the first company to use stainless steel for the manufacturing of cutlery and household appliances more than 80 years ago, this marked the start of one of the most progressive chapters in the history of cooking and housekeeping. The material, which is known by the name Cromargan®, cannot tarnish, is rustproof, acid-resistant, unbreakable, easy to clean and so is extremely durable.
150 years after its first cutlery model was launched onto the market, in 2009 WMF introduced cutlery finished with Cromargan protect. Cromargan protect is produced using a thermochemical treatment process. This involves adding nitrogen to stainless steel at high temperatures, which penetrates into the material and results in a much harder surface after it cools down. This makes the material extremely resistant against signs of wear, and means it still looks as good as new even after years of use. Even intensive use and frequent cleaning in the dishwasher has no adverse effects. Polished surfaces never lose their shine, and matt surfaces stay matt. A brilliant innovation, which is patented and internationally protected by the WMF brand.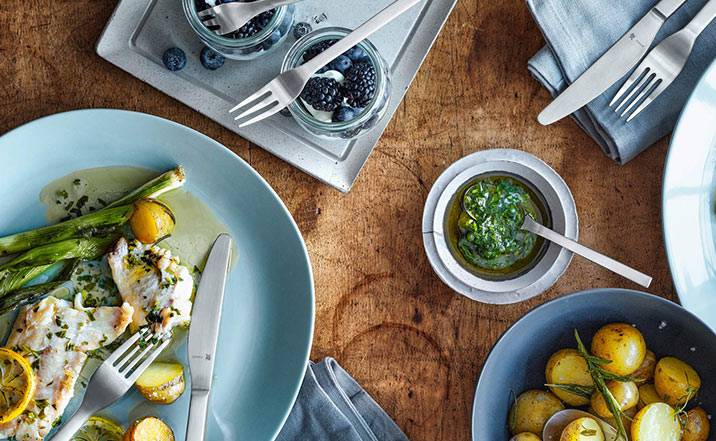 Your cutlery stays looking as beautiful as on the day you bought it.
Extremely resistant to scratches and signs of wear and tear

Polished surfaces stay shiny, matt finishes stay matt.

Knife blades made of high-grade special blade stay sharp for longer

Rustproff and dishwasher safe.

Unique WMF design that gives you pleasure every day.
View Reviews (0)

Your review