Product details
Highlights
Material: Cromargan Edelstahl rostfrei 18/10 poliert - spülmaschinengeeignet, pflegeleicht, backofengeeignet, geschmacksneutral und säurefest
Passend für: WMF Premium One Fleischtopf Ø24cm, WMF Premium One Gemüsetopf Ø24cm
Product description
Durch einen Gemüsedämpfer wird das Gemüse schnell, einfach und mit dem wenigsten Fettgehalt zubereitet. Im Gegensatz zum Kochen hilft Dämpfen auch dabei, die wichtigen Nährstoffe beizubehalten.
Die hochwertige Edelstahl-Serie Premium One sieht schick aus und punktet mit ausgesprochen viel Komfort – kleine und große Küchenchefs möchten da am liebsten gleich anpacken und loslegen. Kein Problem! Denn endlich kann man auch Edelstahlgriffe während des Kochens entspannt ohne Topflappen anfassen. Möglich macht's die patentierte Cool+ Technology, zu erkennen an signalroten Punkten an den Griffen. Doch es gibt noch weitere Vorzüge der mit dem iF Design Award preisgekrönten Töpfe. Der Deckel sitzt fest auf, Dampf zieht durch eine Öffnung kontrolliert ab – da klappert nichts mehr, spritzt kein Wasser auf den Herd. Die Skalierung im Topfinnern erleichtert das Messen und Befüllen, und durch einen speziellen Schüttrand kann beim Abgießen nichts mehr tropfen. Der TransTherm® Allherdboden eignet sich auch für Induktion, er nimmt Hitze schnell auf, verteilt sie gleichmäßig und speichert sie extrem lang. Zum Reinigen wandern die Töpfe in die Spülmaschine, im Schrank sparen sie übereinandergestapelt Platz. Zur Premium One Familie gehören verschiedene Töpfe in mehreren Größen.
Specifications
| | |
| --- | --- |
| SKU: | 17.9624.6040 |
| EAN | 4000530641380 |
| Brand | WMF |
| Collection | Premium One |
| Size sets | 1-pc. |
| Scope of delivery | 1x Dämpfereinsatz Ø24cm |
| Material | Cromargan® 18/10 stainless steel |
| Material property | polished |
| Product properties | cool+ technology |
| Production | Made in Germany |
| Temperature resistance | ovenproof |
| Heat resistant up to | Heat resistant up to 200°C |
| Length (cm) | 33 |
| Width (cm) | 27.5 |
| Height (cm) | 13.5 |
| Diameter (cm) | 24 |
| Gross weight (g) | 1200 |
| Color | stainless steel |
| Care | Dishwasher safe |
| Designer | WMF Atelier (Peter Ramminger) |
| Design Award | iF design award iF Hannover 2011 |
cool+ technology
WMF Cool+ Technology
No more pot holders! WMF pots with Cool + technology ensure a relaxed cooking experience.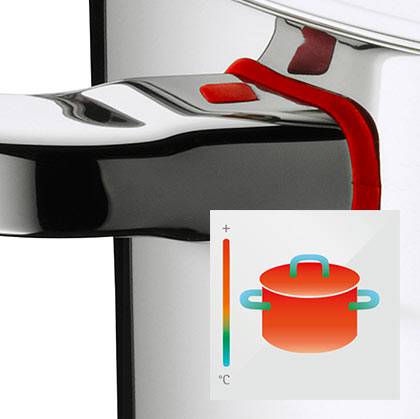 WMF has been manufacturing cookware with a unique form of handle technology since 2010. Its name is Cool+ and it effectively reduces heat conduction between the pan and the handle. This means that during cooking the handles do not become hot. A persuasive safety argument and a cool solution when heat is emanating from the hob.
The Cool+ technology can be recognised by the bright red "dots" on the handles. This handle technology has been patented and exceeds the requirements of DIN EN 12983-1.
.
The handles don´t heat up, even if your passion for cooking is burning.
The innovative technology reduces heat conduction between the pot and the handles.

The handles therefore don´t heat up during cooking

Cool+ pots are easily recognisable by their bright red dots.+

Patented technology exclusive to WMF.
View Reviews (0)

Your review