Home

/

Daily Deal Knives Elements
Daily Deal Knives Elements
Today we present "Elements" - a modern knife series in classical form. The blades of special blade steel are hand-finished. The ideal knife series for beginners!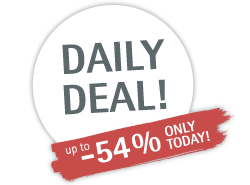 It works like this
On 17 January 2017 only, we're offering two knives Chef's knife Elements 20 cm and Vegetable knife Elements 9 cm on wmf.com at an unbelievably low price.
This offer is only valid on this one day. You need to be quick as stocks are limited.
Great knives for daily use