Falafel skewers with tahini dip
Starter · Vegetarian
---
---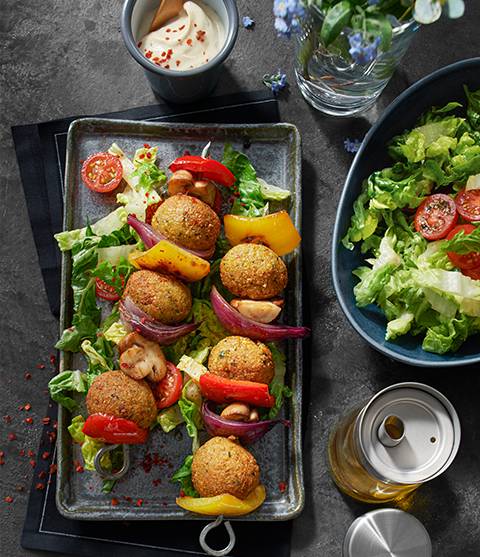 For the falafels:

200 g dried chick peas
½ bunch of flat-leaf parsley
5 stems of fresh coriander
1 onion
4 garlic cloves
Salt and Chilli powder
1 tsp. cumin
1 tsp. baking powder
Approx. 5 tbsp. flour
Vegetable oil for frying



For the dip:

2 garlic cloves
Salt and pepper
100 g tahini (sesame paste from a jar)
1 tsp. runny honey
2 tbsp. lemon juice
Chilli powder
Cumin



For the skewers:

4 medium-sized red onions
1 red and 1 yellow pepper
6 large mushrooms



Plus:

200 g cherry tomatoes
2 romaine lettuce hearts
3 tbsp. olive oil
2 tbsp. lemon juice
Salt, freshly-ground pepper
---
Preparation
Soak the chick peas covered in plenty of cold water for at least 12 hours. In the meantime, change the water 1 or 2 times.
Rinse the parsley and coriander, shake dry and chop coarsely. Peel and coarsely chop the onion and garlic. Drain the chickpeas well. Mix together with the prepared ingredients and mince through the fine perforated grate (3 mm) of the mincer into a mixing bowl on speed setting 3. Add the salt, chilli and cumin and mix everything thoroughly. Mix the baking powder and about 4 tbsp. of flour, then knead into the chickpea mixture. If necessary, knead in a little more flour so that the mixture no longer sticks to your hands. Cover and leave to rest in the fridge for at least 3 hours.


For the dip: peel the garlic, dice finely and crush finely together with a little salt. Heat the garlic, tahini, honey, lemon juice and 100 ml of water in a small pot and keep stirring (do not boil!) until it is a creamy consistency. Add salt, pepper, chilli and cumin to taste. Let the dip cool down.

For the skewers: peel the onions, pre-cook them in lightly salted water for about 10 minutes, drain them and leave to cool down. Carefully cut the onions into quarters. Trim and wash the peppers, then cut them into pieces of around 3–4 cm. Trim and halve the mushrooms.

With slightly moistened hands, roll walnut-sized balls out of the chickpea mixture. Put the falafel balls, peppers, onions and mushrooms alternately on BBQ skewers or kebab skewers.

Wash the tomatoes, rub them dry and halve them. Trim, wash, spin dry and finely chop the lettuce. Mix the lettuce with the oil, lemon juice, a little salt and pepper, then mix in the tomatoes. Distribute onto plates.

Heat up plenty of oil in a deep-fryer or a large, deep frying pan. Fry the falafel skewers in it in portions until they are golden brown all over. Drain briefly on a paper towel. Arrange the skewers on the Lettuce. Serve with the dip.
Preparation time
60 minutes
---