Falafels with pea hummus and quinoa
---
---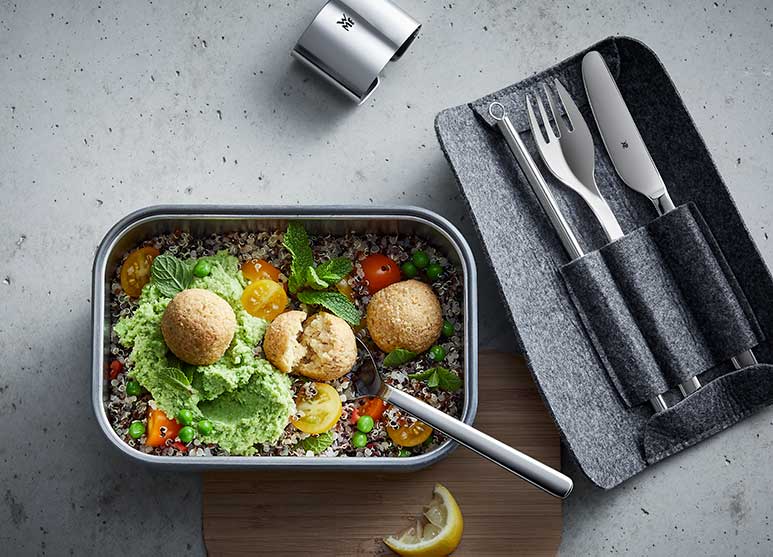 Ingredients
50 g colorful quinoa
1 can chick peas (425g)
1/2 tbsp. finely chopped onions
1/2 garlic glove, finely chopped
1 tsp. flour
2 tbsp. breadcrumbs
Salt, black pepper
1 pinch ground cumin
400 ml vegetable oil
100 g peas, frozen
1 tsp. almond flakes
1 tbsp. grated Parmesan
1 tbsp. olive oil
1/4 red chili
50 g cherry tomatoes
2 sprigs of mint
1 lemon wedg
---
Preparation
1. Cook the quinoa according to the packet instructions and leave to cool.

2. For the falafels, pat the chick peas thoroughly dry. In a high mixing bowl, finely puree half of the chick peas with the garlic, diced onion, flour, breadcrumbs and spices. Leave to swell for 10 minutes. If the mixture is still too soft, add some more breadcrumbs. Form falafel balls out of the mixture (approx. 6 cm). Heat up the oil and fry the falafels for 2-3 minutes until golden brown, then leave to drain on paper towel.

3. For the hummus, blanch the peas in boiling salted water for 30 seconds then quench in cold water. Drain the peas and add 80g to a high mixing bowl. Finely puree together with 2 tbsp. chick peas, the almonds, Parmesan and olive oil, and add salt and pepper to taste. If the mixture is too firm, just add 1-2 tbsp. water.

4. Deseed the chili and chop finely. Wash and halve the cherry tomatoes. Pluck the mint leaves. Mix the quinoa with the cherry tomatoes, the rest of the peas, the chopped chili and the mint leaves. Season with salt and pepper to taste.

5. Add the quinoa to the lunchbox. Arrange the falafels, hummus and lemon wedge on top.
Preparation time
30 minutes
---