Florentine spinach lasagna
---
---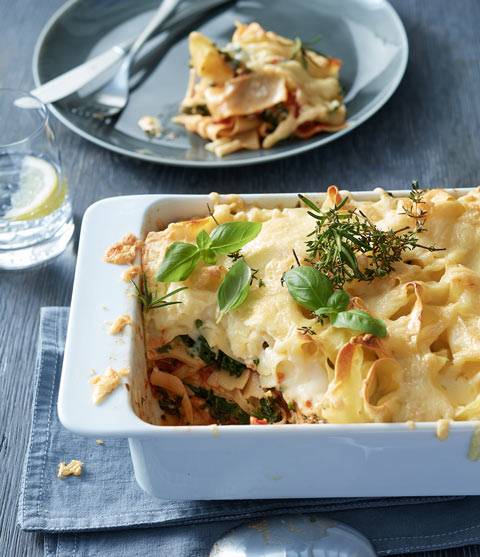 Ingredients
400 g ribbon noodles or parpadelle
600 g spinach leaves (fresh or frozen
200 g grated Emmental
Butter for greasing

For the tomato vegetables
10 ml olive oil
75 g chopped onions
600 g diced canned tomatoes
0,3 tbsp. herbs in oil (basil, rosemary, thyme)
0,3 tbsp. garlic chopped

For the béchamel sauce
75 g butter
75 g flour
0,75 l milk
0,75 l water
0,1 l cream
Salt and pepper
1 pinch of nutmeg
---
Preparation
1. Cook the pasta in salted water until it is al dente, drain it and set the pasta aside. Wash the fresh spinach leaves with cold water and then squeeze well. If you are using frozen spinach, defrost it completely and also squeeze it well.

2. For the tomato vegetables, sauté the chopped onions in olive oil, add the remaining ingredients and simmer on medium heat for about 20 minutes.

3. Melt the butter in a saucepan over medium heat. Add the flour in batches and sweat over low heat, stirring constantly with a whisk, for about 2-3 minutes. Caution: the flour-butter mixture must not brown. Gradually add the cold milk and the cream. Stir vigorously so that no lumps form. Bring to the boil briefly and season to taste with a little salt, pepper and nutmeg. Let the béchamel sauce simmer for another 15 minutes so that it becomes a thick sauce. 4.

4. Prepare the baking form and grease it with butter. It is even easier if you place the form with a piece of butter briefly in the preheated oven until the butter melts slightly. It will then be easier to spread in the form. Put half of the pasta in the mold and layer first the tomato vegetables, then spinach, bechamel sauce and finally cheese. Repeat for the second portion of pasta. It is important that the individual ingredients are pressed down so that the layers can better bond with each other during baking. The top layer of cheese can be a little thicker for a delicious, crispy cheese crust.

5. Bake the lasagna at 160°C top/bottom heat for about 30 minutes and let it rest for 5 minutes before serving. Then cut into portions with a serrated knife.

---