Fried carpaccio with wasabi, shitake mushrooms and baby spinach
---
---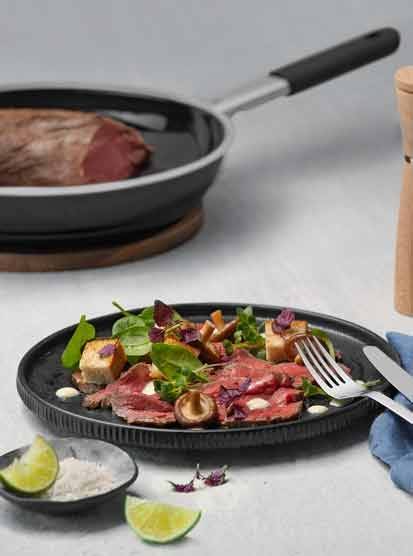 Ingredients
400 g fillet steak (even piece, cut from the centre)
Sunflower oil
2 tbsp. crème fraiche
100 g mayonnaise
1 tsp. wasabi paste
1 tsp. grated fresh ginger
Salt, freshly-ground pepper
100 g stale white bread
100 g shitake mushrooms
Olive oil
100 g baby spinach
1 lime
Light soy sauce
50 g white champignons
---
Preparation
Preheat the oven to 90°C, then season the fillet all over with a little salt and heat a little sunflower oil in the frying pan. The frying pan heats up quickly and has excellent heat distribution properties, so the heat is emitted evenly to produce optimum results. Seal the meat evenly on all sides for 4-5 minutes. Remove from the frying pan and cook on an oven rack with a drip tray underneath on the middle shelf for 1 hour.

Combine the crème fraiche, mayonnaise, wasabi paste and ginger. Season with a little salt and pepper. Cut the bread into cubes of about 1-1.5 cm. Either halve or quarter the shitake mushrooms depending on their size, and fry with the bread in a little sunflower oil for 1-2 minutes until golden brown. Season with a little salt. Wash the spinach and pat it dry. Slice the mushrooms into thin slices.

Remove the fillet from the oven and cut into thin strips. Coat four large flat plates with a little olive oil and place the strips of fillet on top. Spread a little wasabi cream, spinach, croutons and shitake mushrooms on top. Serve drizzled with a little lime juice, soy sauce and olive oil.
Preparation time
80 minutes
---