Fruity bao burger with sweet and spicy fried tempeh
Steamed yeast bun filled with sweet and spicy fried tempeh, Chinese cabbage, pineapple and peanut sauce
---
---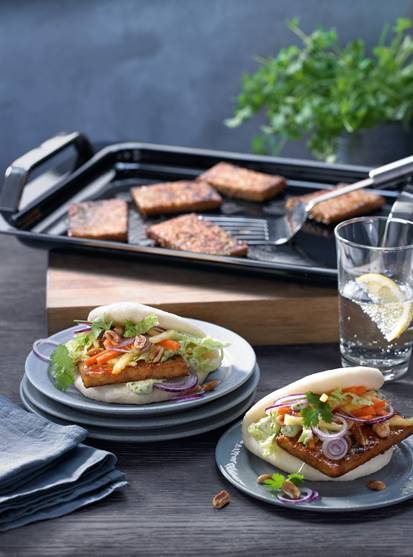 For the tempeh:
400 g tempeh (e.g. from Nagel)
50 g ginger
2 tbsp. coconut flower syrup
1/2 tbsp. sriracha sauce
4 tbsp. psoy sauce
3 tbsp. lime juice
4 tbsp. sesame oil



For the bao buns (8 pieces):

400 g flour, type 405
1/2 tsp. salt
1/2 cube fresh yeast
2 tbsp. sugar
250 ml natural rice milk, lukewarm




For the filling:

1/4 fresh pineapple
1 thick carrot
200 g Chinese cabbage
100 ml rice wine
1 tsp. sugar
1 red onion
1 bunch coriander
100 g (vegan) mayonnaise
80 g salted peanut
---
Preparation
Slice the tempeh, peel the ginger and grate finely. Mix coconut flower syrup, sriracha sauce, soy sauce, 2 tbsp. lime juice and sesame oil in a bowl. Marinate the tempeh slices in the mixture for 1–2 hours. Mix flour and salt in a bowl. Crumble the yeast into the mix, add sugar and stir in a little rice milk. Add the rest and knead with a food processer for 10 minutes until smooth. Cover with a damp cloth and place somewhere warm to rise for approx. 30 minutes. Peel the pineapple, carrot and Chinese cabbage and cut into thin strips. Knead the carrot and Chinese cabbage in a bowl with rice vinegar, sugar and salt. Peel the onion and cut into fine rings. Fill everything into small bowls and set aside somewhere cold, uncovered. Set aside a couple of coriander sprigs, chop the rest coarsely and puree with the mayonnaise and 1 tbsp. lime juice. Season with salt and set aside somewhere cold. Chop the peanuts into coarse chunks. Knead the bun dough again, divide into 8 portions and roll out into oval shapes on a flour-coated surface. Place onto a tray covered with baking paper, cover with a towel and leave to rise for a further 30 minutes. Cut a sheet of baking paper into 16 pieces. Place one of the pieces on the underside of the dough and fold the upper half on top. Place the buns individually onto the baking paper and place 4 of them next to each other on the bottom of a steamer. Fill the bottom of the Fusiontec Functional high casserole 24 cm with boiling water, place the steamer with the buns inside and steam for 20 minutes, covered. Remove the buns and leave to cool. Cook the rest of the buns in the same way. Remove the tempeh from the marinade, drain it and fry it on the grill using the Fusiontec Teppanyaki until crispy. To serve, remove the baking paper and spread the coriander mayonnaise on the bottom half of the buns. Spoon on the Chinese cabbage salad with the pineapple, onions and the tempeh and a couple of peanut chunks and garnish with coriander.
---