CRAFTED FOR LIFE
Julia Komp for Fusiontec
WMF's Fusiontec cookware series is made of the innovative Fusiontec material and excels with its outstanding quality, elegant design and first-class functionality. The unique material is designed to maintain its beauty and performance, and is destined to become a valued "partner for life" in all kinds of kitchens. Cookware made of Fusiontec offers superb cooking and handling properties that are appreciated even by star chefs like our new brand ambassador Julia Komp.
Germany's youngest star chef.
Julia Komp.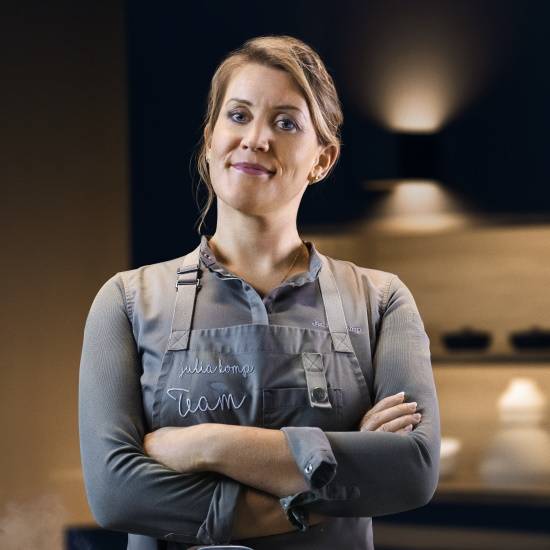 If you don't have goals, you can't achieve anything.
A journey around the world
Every chef has their own style. With Julia Komp, her style is quite clear. With each menu, she sends her guests on a journey through exotic countries and tastes. She draws her inspiration from the many trips she has been on, during which she was able to familiarize herself with the authentic cuisine of the Orient, North Africa and Asia. She is particularly fond of exotic spices, which she masterfully incorporates into her culinary delicacies. No wonder that at work they affectionately call her "the Spice Queen".
The material is just as important as the quality of the ingredients.
The best of cookware in one high-performance material -Fusiontec