Gazpacho fish salad with tomatoes, red onions and spicy croutons in anise dressing
---
---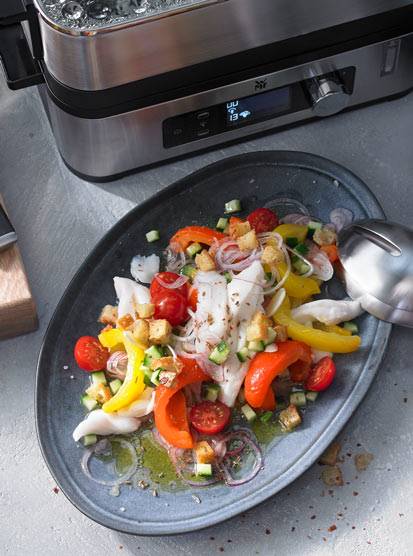 For the salad:
1 red pepper
1 yellow pepper
800 g cod fillet, skinless
Salt
1 cucumber, approx. 400 g
200 g small cherry tomatoes




For the topping:

150 g ciabatta
30 ml olive oil for frying
Chilli powder
For the dressing:
1 tsp. anise seeds
80 g red onion
1 fresh garlic clove
Black pepper, freshly ground
1 tsp. sugar
30 ml cider vinegar
60 ml olive oil
40 g shallots
60 g butter
100 ml apple juice
---
Preparation
For the salad, preheat the oven (fan-assisted) to 250°C. Cook the peppers uncleaned in the oven on aluminium foil until they start to turn black, then remove them, wrap them in wet paper towel and leave to cool. Then remove the skin, stalk and core, and finely slice the pepper.
Rinse the fish fillet in cold water, salt it and cook in the steamer for 12 minutes. Then remove it and let it cool down a little, before cutting it into bite-sized pieces. Peel, core and finely dice the cucumber. Rinse the cherry tomatoes in cold water and halve them.
For the dressing, crush the anise seeds in a mortar. Peel the onions and garlic: slice them very finely and marinate them with anise seeds, salt, pepper and sugar for 10 minutes, then mix with vinegar and olive oil. Around 30 minutes before serving, mix the dressing with the salad ingredients and season again.
For the topping, cut/pull the ciabatta into large pieces and fry in a frying pan in olive oil until golden brown, then sprinkle them with salt and chilli and let them drain on paper towel. Arrange on a plate together with the gazpacho salad.
Preparation time
1 hour
---