Grilled mackerel on lentil hummus with apple-bulgur salad
---
---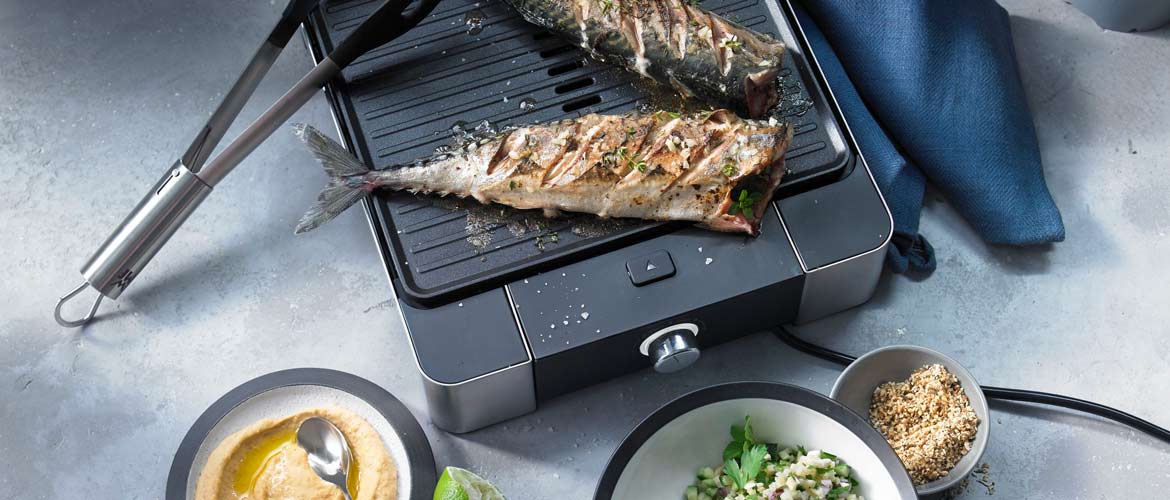 For the hummus:
200 g red lentils
1 bay leaf
1 tbsp. cumin
1 lemon, untreated
80 g tahini (=sesame paste), salted
100 g creamy yoghurt, Turkish style
80 ml olive oil
Salt
For the salad:
150 g bulgur
200 g cucumber
80 g apple rings
50 g red onion
1 bunch of flat-leaf parsley
1/2 bunch mint, preferably Turkish
For the dukkah:
30 g sesame seeds, light
30 g chopped hazelnuts
1 tsp. each coriander seeds, cumin and dried mint



For the Fish:

1 bunch lemon thyme
1 fresh garlic clove
4 mackerels, 400 g each, ready to cook
---
Preparation
For the hummus, rinse the lentils in cold water and cook with the bay leaf in 500 ml boiling water for about 15 minutes until soft, then drain. In the meantime, roast the cumin in a frying pan without fat, then crush finely in a mortar. Wash the lemon in hot water, then dry, finely grate the peel and squeeze out the juice. Purée the lentils with the lemon zest, tahini, yoghurt, 20 ml olive oil and cumin, then season with lemon juice and salt.
For the salad, put the bulgur in 300 ml boiling water, turn off the heat, cover and cook for 10 minutes on the hob, then add salt and leave to cool. Wash and core the cucumber and dice it together with the apple rings. Peel the onions and finely dice. Pluck the herbs – except for a few nice sprigs for garnishing – from the stems and chop finely. Mix the bulgur with the cucumber, apple, onions and herbs, and season with lemon juice, salt and 30 ml olive oil.
For the dukkah, roast the sesame seeds and hazelnuts in a frying pan without fat, then let them cool and crush them in a mortar with the coriander seeds, cumin, mint and a little salt.
For the fish, pluck the lemon thyme off the stems and chop finely. Peel the garlic and dice finely, then mix with lemon thyme and the rest of the olive oil. Rinse the mackerel in cold water, dry carefully, coat inside and outside with herb oil, then cook for 2-3 minutes on each side on the grill (or in a grill pan) and serve. Arrange together with the lentil hummus and bulgur salad and garnish with the remaining herb sprigs.
Preparation time
1 hour
---