Gyoza with mushroom filling
Steamed and fried Japanese dumplings with a mushroom filling and ponzu sauce
---
---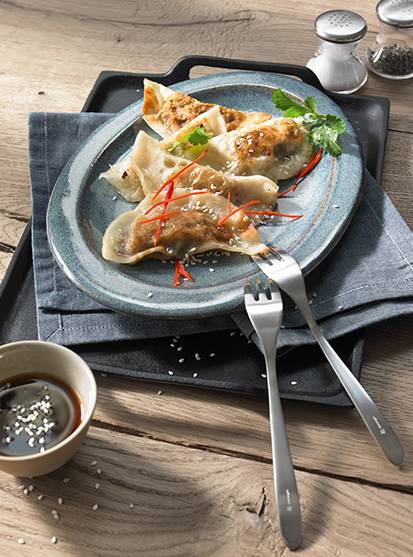 For the gyoza:
150 g shitake mushrooms
50 g mushrooms
1 garlic clove
2 red chilis
4 tbsp. peanut oil
2 tbsp. lime juice
120 ml soy sauce
1 tbsp. toasted sesame oil
1 tbsp. toasted sesame seeds
20 gyoza or wan tan dough sheets
For the ponzu sauce:
25 g icing sugar
40 ml lime juice
1 tbsp. yuzu juice
50 ml mirin
---
Preparation
Clean the mushrooms and chop them into chunks. Peel the garlic, clean and de-seed a chili and chop both finely. Heat up 2 tbsp. peanut oil in the Fusiontec frying pan 28 cm, add the mushrooms with garlic and chili and sear, stirring occasionally.
Reduce the heat, add the lime juice and 20ml soy sauce and continue to fry until all of the liquid has vaporised. Stir in the sesame oil and sesame seeds then leave to cool.
Place 1 teaspoon of filling onto each gyoza dough sheet. Moisten the edges of the dough with a little water, fold the sheet over the filling and press the edges tightly together. Fold the edges into a wave shape.
Heat up the Fusiontec stewing pan 28 cm with the rest of the peanut oil at a high heat.
Place the gyoza pockets into the pan, reduce the heat slightly and fry the gyoza until crispy and golden brown. Then pour 250ml water into the pan and cover immediately with the lid. Leave the gyoza to steam inside the closed pan until there is almost no liquid left. Then remove the lid, reduce the heat and continue to fry the gyoza until they are dry and crispy again.
Meanwhile, for the ponzu sauce, stir the lime and yuzu juice until smooth. Stir in the mirin and 100 ml soy sauce thoroughly.
Cut the rest of the chili in half, remove the seeds and slice into very fine strips. Garnish the gyoza with the chili and serve with the ponzu sauce.
---
Preparation time: 1 hour
---