Product details
Highlights
Content: meat pot Ø 24 cm (approx. 6.8l) - optimal for stovetops with Ø 22 cm, Height: 14 cm - item number: 0775246380
Wide pouring edge for drip-free pouring. Patented Cool+ technology: Effectively reduces the heat transfer from the pot to the handle. Steam opening in the lid - prevents accumulation of calcium, uncontrolled steam emergence and water splashing onto the stove.
WMF pots are suitable for all stove types, including induction. TransTherm-Allherdboden: Patented floor construction with even heat distribution and extended heat storage for energy efficient cooking.
Material: Cromargan Stainless steel rust-free 18/10 - dishwasher safe, easy to clean, oven safe, tasteless and acid resistant.
Developed in Germany.
Product description
So vielseitig wie beliebt: In den Fleischtopf passt alles rein, was zum Kochen viel Flüssigkeit braucht. Und da sein Rand besonders hoch ist, spritzt beim Braten von Fleisch nichts heraus. Auch Nudeln, Kartoffeln und Klöße nimmt er ohne Probleme auf. Großvolumige Gemüsesorten wie Blumenkohl lassen sich prima blanchieren, die gegarten Kartoffeln direkt im Topf pürieren oder zerstampfen. Griffe, die länger kalt bleiben, der breite Schüttrand und je nach Modell Glasdeckel zum Sichtkochen machen das Arbeiten mit ihm noch leichter. Die Fleischtöpfe besitzen einen TransTherm® Allherdboden für eine gleichmäßige Wärmeverteilung und lange Wärmespeicherung. Es gibt sie in unterschiedlichen Größen von 12 bis 24 Zentimeter Durchmesser für den Single- bis zum Familienhaushalt. Praktisch: Der Fleischtopf gehört zu allen mehrteiligen Kochtopf-Sets von WMF.
Das elegante Design der Quality One Serie stammt von Peter Ramminger. Seine Idee: die harmonische Linie und klare Form der Töpfe auf ihre hervorragende Funktionalität zu übertragen. Sein Anspruch ist Produkte zu entwickeln die das Kochen vereinfachen und den Küchenalltag verbessern. Optisch macht das Kochgeschirr mit bauchiger Form runden Griffen und gewölbtem Deckel eine gute Figur. Auch die Verarbeitung hält den hohen Erwartungen stand. Die Edelstahlgriffe werden dank der patentierten Cool+ Technology – gut zu erkennen an den signalroten Punkten – nicht heiß. Und es gibt noch weitere Vorzüge: Der Steckdeckel aus hitzebeständigem Güteglas sitzt fest im Topf durch drei kleine Öffnungen entweicht der Dampf. Über den breiten Schüttrand lassen sich Flüssigkeiten sicher abgießen ohne zu tropfen. Der TransTherm Allherdboden ist für alle Herdarten geeignet auch für Induktion zum Reinigen wandern die Töpfe aus rostfreiem Cromargan in die Spülmaschine.
Specifications
| | |
| --- | --- |
| SKU: | 3201001475 |
| Alte Art. Nr.: | 07.7524.6380 |
| EAN | 4000530646668 |
| Brand | WMF |
| Collection | Quality One |
| Size sets | 1-pc. |
| Scope of delivery | lid |
| Material | Cromargan® 18/10 stainless steel |
| Material property | polished |
| Product properties | Wide pouring rim for drip-free pouring., cool+ technology, Steam vent with lid |
| Induction-compatible | Induction-compatible |
| Stove type | suitable for glass-ceramic, gas, electric and induction stoves |
| Temperature resistance | ovenproof |
| Heat resistant up to | Heat resistant up to 130°C |
| Lid Type | Glass lid |
| Height (cm) | 14 |
| Diameter (cm) | 24 |
| Hotplate diameter (cm) | 22 |
| Capacity (in l) | 6.8 |
| Color | stainless steel |
| Care | Dishwasher safe |
| Designer | WMF Atelier (Peter Ramminger) |
cool+ technology
WMF Cool+ Technology
No more pot holders! WMF pots with Cool + technology ensure a relaxed cooking experience.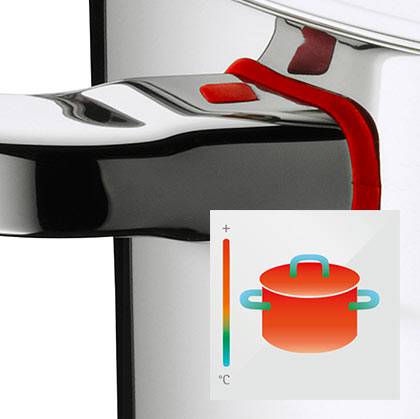 WMF has been manufacturing cookware with a unique form of handle technology since 2010. Its name is Cool+ and it effectively reduces heat conduction between the pan and the handle. This means that during cooking the handles do not become hot. A persuasive safety argument and a cool solution when heat is emanating from the hob.
The Cool+ technology can be recognised by the bright red "dots" on the handles. This handle technology has been patented and exceeds the requirements of DIN EN 12983-1.
.
The handles don´t heat up, even if your passion for cooking is burning.
The innovative technology reduces heat conduction between the pot and the handles.

The handles therefore don´t heat up during cooking

Cool+ pots are easily recognisable by their bright red dots.+

Patented technology exclusive to WMF.
View Reviews (0)

Your review