Fresh from the grill or crispy from the pan - the mouthwatering aroma of cooked meat with fresh herbs and spices will stimulate your appetite. Here you will find everything to satisfy it.
The new BEEF! Heroes.
WMF and the magazine BEEF! expanded their partnership to offer you a wider range of products to enjoy a perfectly prepared steak: a frying pan, a knife set, steak knives and a pepper mill
A steak for champions.
Whether rare, medium or well done. Everyone has their own preference.
Preparation: choose a 4 centimeters thick steak of 180 to 200 grams. Take it out of the refrigerator an hour before cooking. Use a neutral vegetable oil and a tablespoon of butter. Just before the pan starts to smoke, place the steak on it. Preheat oven to 140 degrees. Place your steak on the oven rack with a drip tray.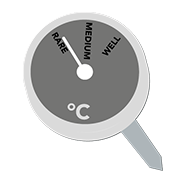 RARE
Fry your steak one minute on each side. Then leave it for 5 minutes in the oven at 140°C.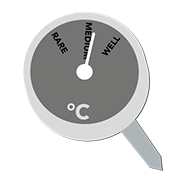 MEDIUM
Fry it one minute on each side and leave it in the oven 15 minutes.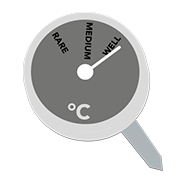 WELL DONE
Also one minute on each side in the pan and 30 minutes in the oven, you are then sure that it will be well cooked.
Which pan is the right one?
Each pan has its advantages. Which is right for you depends on your cooking and eating habits and what you want to prepare. Material, coating and size are elements that will help you decide which pan is the right one for you.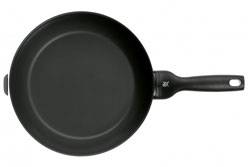 The Multifunctional
These multifunctional pans with a CeraDur non-stick, ceramic-based coating can be used for any dish. Even if they are heated to the maximum temperature of 400°C, nothing sticks to the cooking surface – not even if you're using very little fat.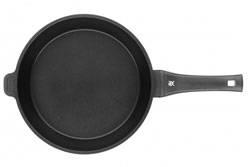 The gentle Fryers
The ideal frying pans for cooking delicate foods. In pans with a three-layer PermaDur non-stick coating, nothing gets burnt or sticks to the pan – even when cooking with very little fat. Very easy to clean.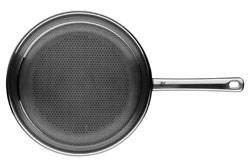 The robust pans
For searing at high temperatures: the ProfiResist or Cromargan®: 18/10 rust-free stainless steel pans can withstand very high temperatures. They last for a particularly long time.
Regular Price: €99.99
Special Price €79.99
And of course also something crisp!
Out of stock
Out of stock
Out of stock
Everything for a great barbecue experience