Hungarian goulash
Goulash with beef, onions, pepper, tomatoes, smoked paprika powder and marjoram.
---
---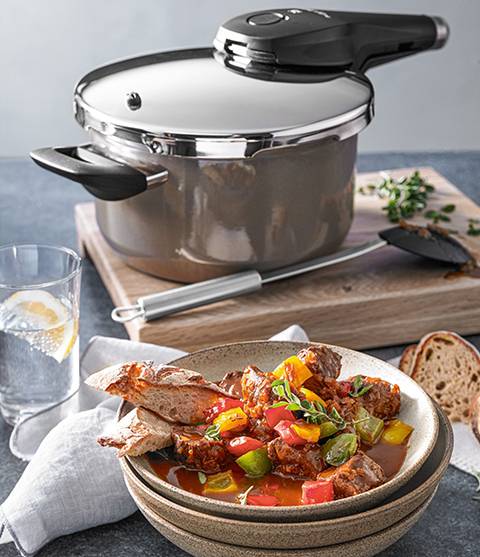 For the goulash
3 large onions
3–4 tbsp. oil for frying
800 g beef goulash
Salt, pepper
3 tsp. paprika powder
80 g tomato and paprika puree
1 tbsp. flour
200 ml red wine
400 ml beef broth or stock
400 g chopped tomatoes
1 tsp. smoked paprika powder
1 tsp. caraway
3 mixed peppers
1 tbsp. cornstarch
10 sticks of marjoram (+a little extra for the garnish)



Serve with:

Farmhouse bread and sour cream
---
Preparation
Peel and dice the onions. Heat up the oil in the Fusiontec pressure cooker Perfect Premium 4.5l, add the meat and sear, turning occasionally. Season with salt, pepper and 2 tsp. paprika powder. Once the meat juice starts to overcook, add the onions and saute briefly. Stir in the tomato and paprika puree and fry briefly. Sprinkle flour over the meat, leave to sweat a little, then douse with red wine and beef stock. Stir in the chopped tomatoes, the rest of the spices and the marjoram, close the pot and set under pressure. Cook the goulash for 30 minutes under pressure.

Meanwhile, wash and clean the pepper and cut it into large chunks.

At the end of the cooking time, carefully de-steam the Fusiontec pressure cooker Perfect Premium 4.5l and open it. Add the pepper chunks and leave the goulash to simmer for a further 5-10 minutes at a mild heat, covered. This will keep the peppers fresh and crunchy!

Season the goulash to taste and bind by stirring in a little cornstarch.

Fill into bowls, garnish with marjoram and a dollop of sour cream and serve with fresh bread.
Preparation time
1 hour, incl. cooking time
---