Içli Köfte
Turkish "croquettes", filled with mincemeat and nuts, served with mint yoghurt and a parsley and tomato salad
---
---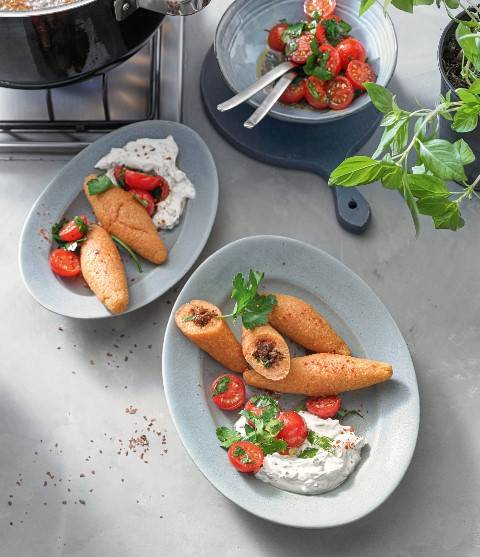 For the bulgur dough:
200 g fine bulgur wheat (kofta bulgur)
200 g common wheat flour
1 heaped tsp. salt
4 tbsp. paprika puree
1 egg



For the filling:

2 onions
100 g walnuts
2 tbsp. oil
350 g minced beef
1 tsp. pul biber



For the salad:

500 g ripe cherry tomatoes
1 large bunch of parsley
2 tbsp. Nar ekşisi (Turkish pomegranate syrup)
1 tsp. Sumach
4 tbsp. olive oil



For the mint yoghurt:

6 sprigs of mint
300 g yoghurt (10%)
The juice and peel from 1/2 organic lemon



To fry:

1.5 l oil
---
Preparation
Mix the bulgur and wheat with salt in a mixing bowl. Bring 420ml water to boil. Dissolve 2 tbsp. paprika puree in the water and add to the bowl. Stir well and leave to soak for 30 minutes, covered.

Peel the onions and dice finely. Chop the walnuts into coarse chunks. Heat up the oil in the Fusiontec frying pan 24 cm, saute the diced onion, add the walnuts and minced meat and fry, stirring occasionally. Season with salt and pul biber. Add and stir in the rest of the paprika puree. Set aside and leave to cool.

Cut the tomatoes in half and place into a salad bowl. Chop the parsley leaves and fine stems. Stir 3 tbsp. parsley into the minced meat, add the rest of the parsley to the tomatoes.

Whisk the Sumach, salt and 3 tbsp olive oil into the pomegranate syrup. Mix the dressing into the salad and leave to steep.

Knead the soaked bulgur dough in a food processor for the least 15-20 minutes until it forms a paste-like, sticky dough. If necessary, add a little extra water! Add the egg and knead for another 5 minutes.

Split the dough into 12 mandarin-sixed portions using wet hands and form into finger-length croquettes. Flatten these using your finger, pressing from the inside, so as to form a bowl shape. Fill the cavity with approx. 1 tbsp. minced meat mixture, press the opening together and form the kofta into an oval shape, with the ends tapered. Make sure to keep the dough moist and ensure that it does not tear.

Heat up the oil to 180 °C in the Fusiontec Functional high casserole 24 cm and deep fry the koftas for 1–2 minutes until golden brown. Remove using a skimmer and leave to drain on some kitchen roll.

For the yoghurt dip, pluck and finely chop the mint leaves. Stir into the yoghurt with the lemon juice and rind, a little salt and 1 tbsp. olive oil.

Serve the koftas with the tomato salad and mint yoghurt.
Preparation time
2 hours, incl. resting times
---