Italian-style spicy Bratwurst
---
---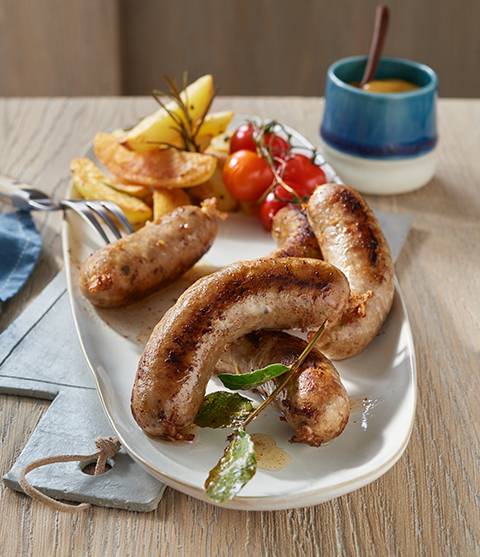 Ingredients:
100 g onions
2 garlic cloves
A little olive oil for frying
3 tbsp. fennel seeds
1 tbsp. black peppercorns
3 allspice corns
1 bay leaf
1 organic lemon
1 sprig of rosemary
800 g well-chilled, streaky pork neck
200 g well-chilled fat bacon
Approx. 20 g salt
Approx. 4 m ready-to-fill sausage casings in brine, calibre 30/32 mm
---
Preparation
Peel the onions and garlic, and dice roughly. Heat 1 tbsp. of oil in a frying pan, fry the cubes of onion and garlic. Allow to cool.

Sauté the fennel, pepper, allspice and bay leaf. Finely grind the spices. Finely chop the bay leaf. Wash the lemon in hot water, rub it dry and finely grate some of the peel. Strip rosemary needles from the sprig.

Cut the meat and bacon into long strips. Mix together well with the garlic, spices, bay leaf, lemon zest and salt. Cover and leave to freeze briefly in the freezer compartment for about 45 minutes.

In the meantime, rinse the sausage casing in plenty of lukewarm water and wet it thoroughly.

Mince the meat mixture through the medium-sized grate (4 mm) of the mincer on speed setting 2. Form a small test dumpling from the meat mixture. Fry in a coated pan and taste. Season the meat mixture as desired. Cool the mixture for another 30 minutes and then knead again.

Spread out the casing and thread it onto the sausage attachment (19 mm). Gradually press the sausage meat into the casing on the soft speed setting twisting to form sausages measuring approx. 10–12 cm in length. Cool the sausage chain for at least 30 minutes.

Separate the sausages for serving. Heat a little oil in a frying pan. Fry the sausages on all sides over a medium heat for about 10–12 minutes.
Preparation time
60 minutes
---