Japanese soba noodle bowlwith spinach-miso pesto, marinated eggs and furik
---
---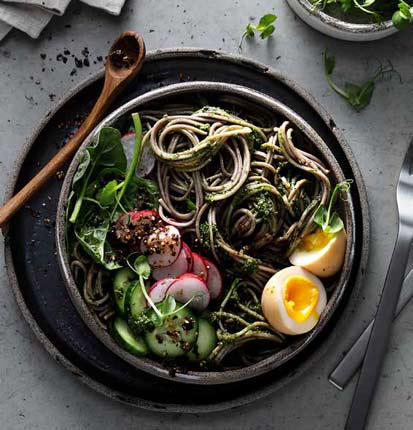 Marinated eggs:
4 medium eggs
4 tbsp mirin
4 tbsp Japanese soy
1 tsp salt
Pesto:
150 g baby spinach
75 g cashew nuts
1 garlic clove
2 tbsp Hikari or Shiro
100 ml neutral vegetable oil
2 tbsp roasted sesame
Furikake:
2 sheets nori seaweed
2 tsp Korean chili flakes (chilli flakes without seeds)
4 tbsp sesame seeds
2 tbsp soy sauce
2 tbsp mirin
Noodles:
400 g soba noodels
1 bunch radishes
2 mini cucumbers
A few radishes and pea shoots
---
Preparation
Cook eggs for 5 minutes, drain and shock in cold water. Peel the eggs and put them in a plastic bag. Add mirin, soy sauce and salt and seal in an airtight bag. Let sit for about 20 minutes.
Wash and drain the spinach, and put in the mixing jug. Add peeled garlic, nuts, oil, miso and a pinch of salt, then close the lid and mix on pulse setting for about 30 seconds or until smooth.Bring a medium-sized pan to medium heat. Add sesame seeds and crushed or coar chopped nori sheets and roast until the sesame seeds turn a golden colour. Next, add soy sauce and mirin and cook until evaporated and slightly caramelized. Transfer to a plate and let cool for about 10 minutes.
Meanwhile, bring a large pot of salted water to a boil and cook noodles as described. Wash and drain radishes and cucumbers and cut into small slices. Transfer sesame mixture to the small mixing container, add chili flakes and grin coarsely twice for about 3 seconds using the flat blade. Drain the noodles and mix with the pesto, divide equally on 4 plates, and serve with radishes, cucumbers and one egg. Finish with a sprinkle of furikake and some pea shoots.
---
Preparation time: approx. 30 Minutes
Steaming time: approx. 20 Minutes
---