Product details
Highlights
Content: 1x Cook's knife, 1x meat knife, 1x utility knife - item number: 1882109992
Material: Forged blade made of rust-free and acid resistant speciality blade steel. Long lasting sharpness thanks to the hardened blade. Handle without grooves made of high-quality rust-free Cromargan stainless steel.
Performance Cut technology: Combination of traditional forging processes with state-of-the-art precision technology for extraordinary long lasting sharpness.
Ergonomically shaped handle and perfectly balanced weight of blade and handle for comfortable handling. Jointless workmanship makes it perfectly sanitary - no noticeable transitions between blade, guard and handle. Cleaning the knife: Hand-wash.
Made in Germany - Knife in premium quality, manufactured at our own blade forge in Germany. The special design intuitively provides a professional holding of the handle.
Product description
Whether you are an amateur or a professional chef, a vegetarian or a meat lover, have a small or a large kitchen, you should always have a certain number of knives. After all, different knives are recommended for optimally preparing different foods. Each knife set contains a varying range of different knives. For example, the five-piece sets in the Grand Class, Grand Gourmet and Spitzenklasse Plus collections cover the whole range of essential kitchen knives – a vegetable knife, a chef's knife, an all-purpose knife, a meat knife and a bread knife – leaving you optimally equipped. Three-piece sets are also available – mostly consisting of a chef's knife, a preparing knife and a vegetable knife – for less-demanding requirements. Those who like a splash of colour will be delighted with the bright and colourful sets in the Touch series, while the sets containing Japanese or Asian knives are ideal for those looking for something special. As you can see, there are plenty to choose from. Which set is best for you?
As the name suggests, the Chef's Edition was designed for professional chefs and for all those looking for maximum cutting precision. The idea behind the collection came about after a workshop on handling and cutting techniques. Professional chefs hold wide knives between their thumb and index finger just in front of the bolster – i.e. precisely where you would find a sharp edge on standard knives. This realisation led to the development of a knife with a smooth transition between the blade and the bolster as well as on the spine. As there are no sharp edges, the knives in the Chef's Edition fit perfectly in the hand and effortlessly cut through even the thickest pieces of meat and the crunchiest of vegetables. Thanks to the seamless transition between the blades and the stainless steel handles, the models are particularly easy-care and hygienic. The series includes a larding knife, an all-purpose knife, a chef's knife, a carving knife and a bread knife as well as a Chinese chef's knife. All blades are Performance Cut, guaranteeing outstanding, long-lasting sharpness. Besides tactile and functional qualities, the Chef's Edition also boasts a modern design.
Specifications
| | |
| --- | --- |
| SKU: | 18.8210.9992 |
| EAN | 4000530678492 |
| Brand | WMF |
| Collection | Chef's Edition |
| Size sets | 3-pcs. |
| Scope of delivery | Chef's knife, carving knife, larding knife |
| Material | Special blade steel, forged |
| Product properties | Performance Cut |
| Production | Made in Germany |
| Color | stainless steel |
| Care | Wash by hand |
Performance Cut
WMF Performance Cut Technology
Cut for as long as you want. Your knife always stays uniquely sharp.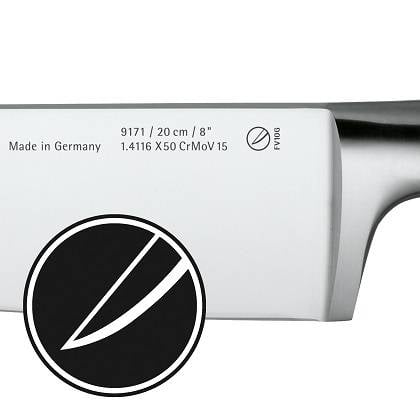 What does Performance Cut Technology mean?
It is the combination of the traditional forging process with the latest precision technology. It is, for instance, a new, innovative finishing of the steel and a high-precision sharpening process of the blades. This results in knives with an optimal cutting angle, which remain sharp for an unbelievably long time.
Cut for as long as you want. Your knife always stays uniquely sharp.
Performance Cut combines traditional forging methods with the latest developments in precision technology.

Performance Cut technology for outstanding and long-lasting sharpness.

Blades made of forged special blade steel.

Sturdy and corrosion-resistant.
Traditional forging craft and the latest 'Made in Germany' technology
Traditional forging craft and the latest 'Made in Germany' technology
WMF follows the tradition of cutlers and uses particular care for this craft. From 2014, the company will combine the traditional art of forging with the latest precision technology in manufacturing. Tests show that WMF household knives that are made with this Performance Cut Technology exceed the standard for cutting performance by double.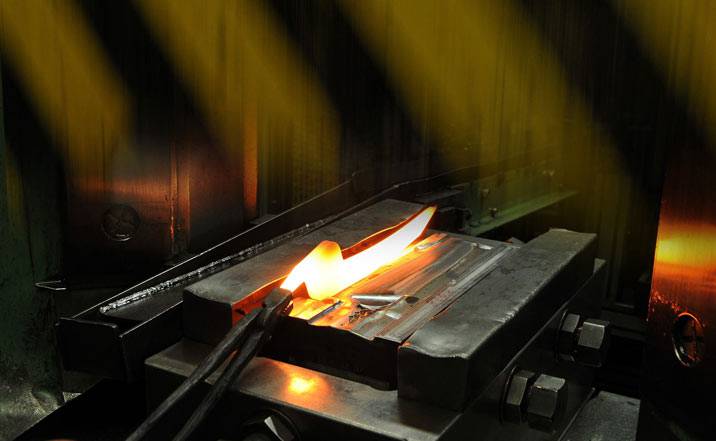 In Hayingen, a small town in the middle of the Swabian Alb, WMF operates one of the largest blade forges in Germany. Annually, hundreds of thousands of knives are made in the company's own factory according to the traditional drop forging process. In this process, blades made of special blade steel are worked over the whole length with the forging hammer. About 30 work steps are required before the customer is holding a knife of the highest quality in their hands: From the examination of the raw material to the packaging and shipping of the knife.
Every work step is subject to strict quality controls. Only in this way can WMF ensure the high quality standard at every phase of the manufacturing process. The result is 'Made in Germany' knife blades that are phenomenally sharp, precise in their cut and retain their cutting performance for a long time.
Performance Cut Technology WMF knife series
View Reviews (0)

Your review