Product details
Highlights
Hochwertige Qualität Made in Germany mit der einzigartigen Performance Cut Technologie.
Der Griff ist ergonomisch gestaltet, mit traditioneller Nietenoptik ausgestattet und mit
Edelstahl-Griffkappen veredelt.
Die Klinge bietet eine hohe Stabilität und besticht durch ein besonderes Klingendesign
"Secondary Cut", das die besondere Kante in der Klinge beschreibt und zur erhöhten
Stabilität beiträgt.
Product description
The SEQUENCE knife series comprises a total of 9 different knives – from the common all-rounder to the chef's knife and the Chinese chopper. Although the individual blade shapes are very different, the properties of the specially hardened stainless steel are all excellent. Thanks to the patented WMF Performance Cut technology, the blades offer outstanding long-lasting sharpness, day after day, cut after cut. The kinetic ergonomic design with high-quality stainless steel handle caps ensures a comfortable grip and a balanced feeling when cutting, chopping and snipping. The Kineo knife series: the perfect knife right from the start – with an outstanding price/performance ratio, Made in Germany.
Specifications
| | |
| --- | --- |
| SKU: | 3201019525 |
| Alte Art. Nr.: | 18.9636.9992 |
| EAN | 4000530716552 |
| Brand | WMF |
| Collection | Sequence |
| Size sets | 6-pcs. |
| Scope of delivery | 1x Chef´s knife  20cm, 1x Carving knife 20cm, 1x Vegetable knife 9cm, knife block, sharpening steel |
| Material | Special blade steel |
| Product properties | Performance Cut |
| Production | Made in Germany |
| Color | nature, black, stainless steel |
| Care | Wash by hand |
Performance Cut
WMF Performance Cut Technology
Cut for as long as you want. Your knife always stays uniquely sharp.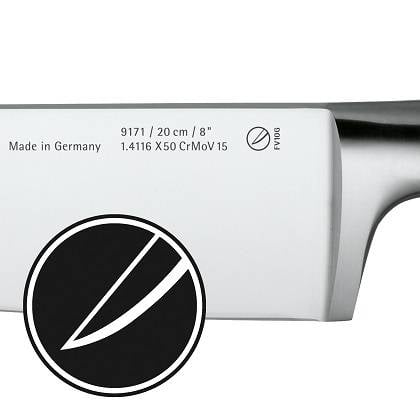 What does Performance Cut Technology mean?
It is the combination of the traditional forging process with the latest precision technology. It is, for instance, a new, innovative finishing of the steel and a high-precision sharpening process of the blades. This results in knives with an optimal cutting angle, which remain sharp for an unbelievably long time.
Cut for as long as you want. Your knife always stays uniquely sharp.
Performance Cut combines traditional forging methods with the latest developments in precision technology.

Performance Cut technology for outstanding and long-lasting sharpness.

Blades made of forged special blade steel.

Sturdy and corrosion-resistant.
Traditional forging craft and the latest 'Made in Germany' technology
Traditional forging craft and the latest 'Made in Germany' technology
WMF follows the tradition of cutlers and uses particular care for this craft. From 2014, the company will combine the traditional art of forging with the latest precision technology in manufacturing. Tests show that WMF household knives that are made with this Performance Cut Technology exceed the standard for cutting performance by double.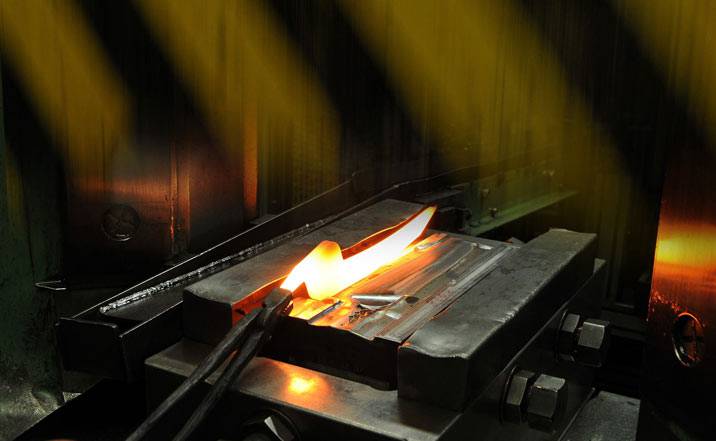 In Hayingen, a small town in the middle of the Swabian Alb, WMF operates one of the largest blade forges in Germany. Annually, hundreds of thousands of knives are made in the company's own factory according to the traditional drop forging process. In this process, blades made of special blade steel are worked over the whole length with the forging hammer. About 30 work steps are required before the customer is holding a knife of the highest quality in their hands: From the examination of the raw material to the packaging and shipping of the knife.
Every work step is subject to strict quality controls. Only in this way can WMF ensure the high quality standard at every phase of the manufacturing process. The result is 'Made in Germany' knife blades that are phenomenally sharp, precise in their cut and retain their cutting performance for a long time.
Performance Cut Technology WMF knife series
View Reviews (0)

Your review