Product details
Highlights
Higiene absoluta gracias a su maravilloso corte; no se aprecian transiciones entre la cuchilla, el refuerzo y el mango.
Material: Hoja forjada de manera tradicional. Acero inoxidable especial y resistente a los ácidos. Mango fabricado en acero inoxidable Cromargan de alta calidad.
Tecnología Performance Cut: combina la forja tradicional con la tecnología de precisión más avanzada para un afilado superior y duradero.
Mango ergonómico. Peso ideal tanto de la hoja como del mango para un manejo cómodo.
Made in Germany: cuchillos de primera calidad fabricados en nuestra propia planta de forja en Alemania.
Product description
El cuchillo de chef es la joya de la corona: su hoja ancha y perfectamente afilada se desliza suavemente a través del pescado y la carne y corta incluso las verduras más duras; incluso el corte de frutos secos hacen que el cuchillo de un chef sea soberbio para ello. Coloca la punta del cuchillo en la tabla de cortar y mueve el filo hacia arriba y abajo. Si eso no es suficiente, puedes usar el lado ancho del cuchillo para cortar de manera uniforme las rebanadas de carne como un escalope. Con tanta flexibilidad no es sorprendente que el cuchillo de un chef forme parte del equipo básico de cada cocina. Seguro que pasará a ser tu nuevo cuchillo preferido.
En esta serie de cuchillos, el nombre lo dice todo: Chef's edition fue diseñada para profesionales de la cocina y para aquellos que desean la máxima precisión al cortar. La idea para la colección surgió tras un taller sobre postura manual y técnica de corte. Esta herramienta se diseñó debido a que los chefs profesionales utilizan cuchillos de líneas suaves. Sin bordes afilados, los cuchillos Chef's Edition se ajustan perfectamente a tu mano, cortando sin esfuerzo la carne más gruesa y las verduras más crujientes. Gracias al proceso de fabricación, los modelos son particularmente fáciles de limpiar e higiénicos. La serie incluye una chaira y un cuchillo de uso múltiple, un cuchillo de carne y pan y un cuchillo de cocinero de estilo asiático. Todas los cuchillos están afilados con la tecnología patentada Performance Cut para un afilado superior a largo plazo. Además de sus propiedades prácticas y funcionales, los Chef's Edition también resultas atractivos por su aspecto moderno.
Specifications
| | |
| --- | --- |
| SKU: | 18.8200.6032 |
| EAN | 4000530677662 |
| Brand | WMF |
| Collection | Chef's Edition |
| Size sets | 1-pc. |
| Scope of delivery | 1 cuchillo de cocinero (longitud total 32 cm, longitud de la hoja 20 cm) |
| Material | Special blade steel, forged |
| Product properties | Performance Cut |
| Production | Made in Germany |
| Length (cm) | 32 |
| Blade-length (cm) | 20 |
| Color | stainless steel |
| Care | Wash by hand |
Performance Cut
WMF Performance Cut Technology
Cut for as long as you want. Your knife always stays uniquely sharp.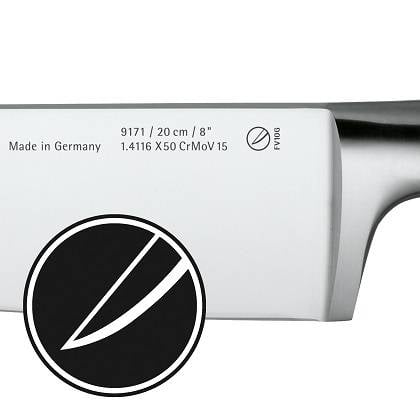 What does Performance Cut Technology mean?
It is the combination of the traditional forging process with the latest precision technology. It is, for instance, a new, innovative finishing of the steel and a high-precision sharpening process of the blades. This results in knives with an optimal cutting angle, which remain sharp for an unbelievably long time.
Cut for as long as you want. Your knife always stays uniquely sharp.
Performance Cut combines traditional forging methods with the latest developments in precision technology.

Performance Cut technology for outstanding and long-lasting sharpness.

Blades made of forged special blade steel.

Sturdy and corrosion-resistant.
Traditional forging craft and the latest 'Made in Germany' technology
Traditional forging craft and the latest 'Made in Germany' technology
WMF follows the tradition of cutlers and uses particular care for this craft. From 2014, the company will combine the traditional art of forging with the latest precision technology in manufacturing. Tests show that WMF household knives that are made with this Performance Cut Technology exceed the standard for cutting performance by double.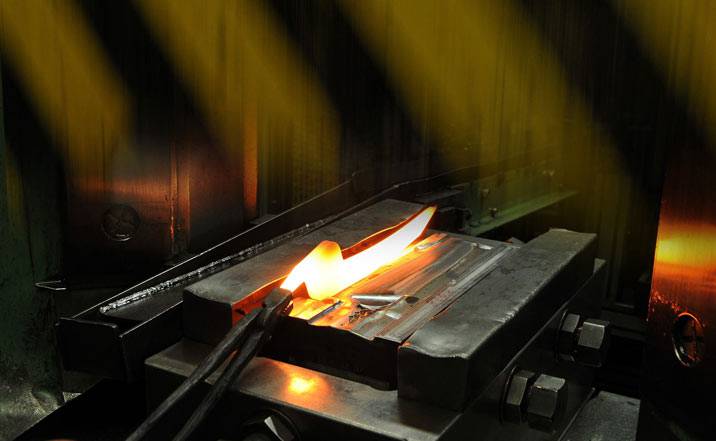 In Hayingen, a small town in the middle of the Swabian Alb, WMF operates one of the largest blade forges in Germany. Annually, hundreds of thousands of knives are made in the company's own factory according to the traditional drop forging process. In this process, blades made of special blade steel are worked over the whole length with the forging hammer. About 30 work steps are required before the customer is holding a knife of the highest quality in their hands: From the examination of the raw material to the packaging and shipping of the knife.
Every work step is subject to strict quality controls. Only in this way can WMF ensure the high quality standard at every phase of the manufacturing process. The result is 'Made in Germany' knife blades that are phenomenally sharp, precise in their cut and retain their cutting performance for a long time.
Performance Cut Technology WMF knife series
View Reviews (0)

Your review