Product details
Highlights
Absolute Hygiene durch fugenlose Verarbeitung - keine Übergänge zwischen Klinge, Kropf und Heft spürbar.
Material: Geschmiedete Klinge aus rostfreiem und säurebeständigem Spezialklingenstahl. Griff aus hochwertigem Kunststoff.
Performance Cut Technologie: Verbindung von traditionellem Schmiedeverfahren mit modernster Präzisionstechnologie für überragende und lang anhaltende Schärfe.
Ergonomisch geformter Griff und ideal ausbalanciertes Gewicht von Klinge und Griff für angenehme Handhabung.
Made in Germany - Messer in Premium-Qualität, hergestellt in eigener Klingenschmiede in Deutschland. Klassik trifft Moderne - traditionelle Nietenoptik im modernen Design.
Product description
Das Kochmesser ist der Tausendsassa unter den Messern: Seine breite, kräftige Klinge gleitet geschmeidig durch Fisch und Fleisch und zerkleinert selbst das härteste Gemüse. Auch das Wiegen von Kräutern und das Hacken von Nüssen erledigt ein Kochmesser souverän: Dazu setzen Sie einfach die Messerspitze auf das Schneidbrett und bewegen die Klinge auf und ab. Und als wäre das nicht schon genug, können Sie mit der Breitseite des Messers Fleischscheiben wie ein Schnitzel gleichmäßig plattieren. Bei so viel Flexibilität wundert es nicht, dass ein Kochmesser zur Grundausstattung jeder Küche gehören sollte. WMF bietet Ihnen verschiedene Modelle: mit unterschiedlichen Klingenlängen (13, 15 und 20 Zentimeter) und den unterschiedlichen Eigenschaften der einzelnen Messer-Kollektionen. Sicher ist auch Ihr neues Lieblingsmesser dabei.
Eine Prise Nostalgie gepaart mit modernster Materialverarbeitung – das sind die Komponenten der WMF Grand Class Messer-Serie. So erinnern die schwarzen Griffe mit Edelstahlnieten optisch an traditionelle Handwerkskunst längst vergangener Zeiten. Die moderne, fugenlose Verarbeitung der hochwertigen Kunststoffgriffe sorgt für ein hohes Maß an Hygiene und ihre ergonomische Form für angenehme und sichere Handhabung. Der Kropf dient als Fingerschutz beim Schneiden. Wie alle WMF Messer bestehen auch die der Grand Class Edition aus hochwertigem Spezialklingenstahl, der über die gesamte Länge geschmiedet wurde. Der Performance Cut verleiht den Klingen schließlich ihre außergewöhnliche und langlebige Schärfe. Zur Kollektion gehören Koch- und Fleischmesser mit verschiedenen Klingenlängen, Allzweck-, Gemüse-, Brot- und Küchenmesser, Santoku-, Spick-, Steak-, Zubereitungs- und Tourniermesser.
Specifications
| | |
| --- | --- |
| SKU: | 18.9170.6032 |
| EAN | 4000530677341 |
| Brand | WMF |
| Collection | Grand Class |
| Size sets | 1-pc. |
| Scope of delivery | 1x Kochmesser (Gesamtlänge: 30 cm, Klingenlänge: 15 cm) |
| Material | Special blade steel, forged |
| Material property | Stainless steel |
| Building material | Hochwertiger Kunststoff |
| Product properties | Performance Cut |
| Production | Made in Germany |
| Length (cm) | 30 |
| Blade-length (cm) | 15 |
| Color | black |
| Care | Wash by hand |
| Designer | Makio Hasuike |
| Design Award | iF design award iF Hannover 2012 |
Performance Cut
WMF Performance Cut Technology
Cut for as long as you want. Your knife always stays uniquely sharp.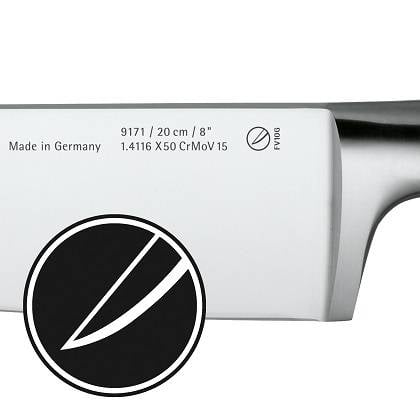 What does Performance Cut Technology mean?
It is the combination of the traditional forging process with the latest precision technology. It is, for instance, a new, innovative finishing of the steel and a high-precision sharpening process of the blades. This results in knives with an optimal cutting angle, which remain sharp for an unbelievably long time.
Cut for as long as you want. Your knife always stays uniquely sharp.
Performance Cut combines traditional forging methods with the latest developments in precision technology.

Performance Cut technology for outstanding and long-lasting sharpness.

Blades made of forged special blade steel.

Sturdy and corrosion-resistant.
Traditional forging craft and the latest 'Made in Germany' technology
Traditional forging craft and the latest 'Made in Germany' technology
WMF follows the tradition of cutlers and uses particular care for this craft. From 2014, the company will combine the traditional art of forging with the latest precision technology in manufacturing. Tests show that WMF household knives that are made with this Performance Cut Technology exceed the standard for cutting performance by double.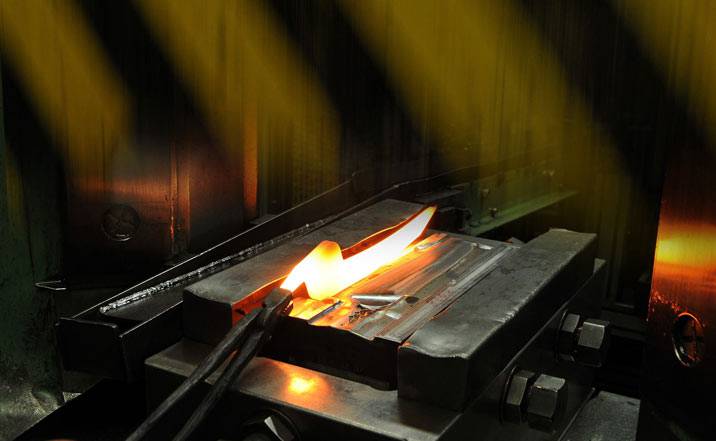 In Hayingen, a small town in the middle of the Swabian Alb, WMF operates one of the largest blade forges in Germany. Annually, hundreds of thousands of knives are made in the company's own factory according to the traditional drop forging process. In this process, blades made of special blade steel are worked over the whole length with the forging hammer. About 30 work steps are required before the customer is holding a knife of the highest quality in their hands: From the examination of the raw material to the packaging and shipping of the knife.
Every work step is subject to strict quality controls. Only in this way can WMF ensure the high quality standard at every phase of the manufacturing process. The result is 'Made in Germany' knife blades that are phenomenally sharp, precise in their cut and retain their cutting performance for a long time.
Performance Cut Technology WMF knife series
View Reviews (0)

Your review