Product details
Highlights
Aus Cromargan protect Edelstahl
Mattierte Ausführung
Rostfrei, formstabil, hygienisch, säurefest, unverwüstlich und kratzbeständig
Spülmaschinengeeignet
Design: Köhler & Wilms
Product description
Sie ist die kleine Schwester der Menügabel: die meist dreispitzige Kuchengabel. Häufig mit einem verstärkten und angeschrägten linken Zinken ausgestattet, portioniert sie Kuchen, Torten oder Gebäck. Auch Obst und Dessertspeisen lassen sich mit einer Kuchengabel leicht genießen. Die kleinen Gabeln erhalten Sie als Einzelstück oder als Bestandteil eines Sets. Nach jahrelanger Forschungsarbeit ist es WMF 2008 gelungen, Cromargan® weiterzuentwickeln und damit Bestecke extrem widerstandsfähig gegen alle Gebrauchsspuren des Alltags zu machen. Dieses veredelte Material trägt den Namen Cromargan protect®. Die überzeugenden Eigenschaften von Cromargan® werden um eine weitere ergänzt: Cromargan protect® ist neben der ausgezeichneten Säurefestigkeit und Rostbeständigkeit auch extrem kratzfest. Selbst starke Beanspruchung und häufiger Einsatz können dem Material nichts anhaben. So bleibt die Oberfläche von poliertem Besteck aus Cromargan protect® dauerhaft glänzend, und gebürstete Modelle behalten ihre edle Mattierung – beinahe wie am ersten Tag.
Links herum rechts herum oder doch auf dem Rücken liegend? Mit dem innovativen WMF Besteckmodell Corvo können Sie das Messer auf jede Seite legen – es ist stets ein Hingucker. Möglich macht dies das besondere Design von Köhler & Wilms. Liegt das Messer auf der Klinge passt sich sein Griff optisch dem von Löffel und Gabel an. Ruht die Klinge wie gewohnt in Seitenlage ragt der Messergriff empor. Sie werden sehen: So macht Eindecken Spaß denn mit demselben Besteck schaffen Sie je nachdem wie Sie die Messer platzieren immer wieder ein neues Bild. Alle Besteckteile sind schmal geformt mattiert und liegen gut in der Hand – ein Hochgenuss an dem Sie aufgrund der Cromargan protect Veredelung lange Freude haben werden.
Specifications
| | |
| --- | --- |
| SKU: | 11.5864.6330 |
| EAN | 4000530650306 |
| Brand | WMF |
| Collection | Corvo |
| Size sets | 1-pc. |
| Scope of delivery | 1x Kuchengabel |
| Material | Cromargan protect |
| Material property | matt |
| Product properties | Easy to clean and care for |
| Production | Engineered in Germany |
| Length (cm) | 16 |
| Gross weight (g) | 18,1 |
| Color | stainless steel |
| Care | Dishwasher safe |
| Designer | Köhler & Wilms |
| Design Award | red dot award |
Cromargan protect
WMF Cromargan® Protect Technology
Cutlery that always looks as good as new even after years of use – no longer just wishful thinking but now a reality. WMF Cromargan protect means the surface of the cutlery items always looks flawless. The passing of time hardly leaves a trace, even after extended use.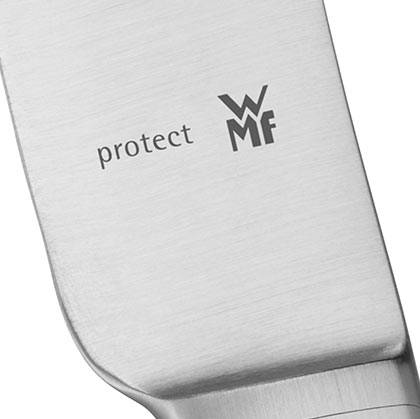 When WMF was the first company to use stainless steel for the manufacturing of cutlery and household appliances more than 80 years ago, this marked the start of one of the most progressive chapters in the history of cooking and housekeeping. The material, which is known by the name Cromargan®, cannot tarnish, is rustproof, acid-resistant, unbreakable, easy to clean and so is extremely durable.
150 years after its first cutlery model was launched onto the market, in 2009 WMF introduced cutlery finished with Cromargan protect. Cromargan protect is produced using a thermochemical treatment process. This involves adding nitrogen to stainless steel at high temperatures, which penetrates into the material and results in a much harder surface after it cools down. This makes the material extremely resistant against signs of wear, and means it still looks as good as new even after years of use. Even intensive use and frequent cleaning in the dishwasher has no adverse effects. Polished surfaces never lose their shine, and matt surfaces stay matt. A brilliant innovation, which is patented and internationally protected by the WMF brand.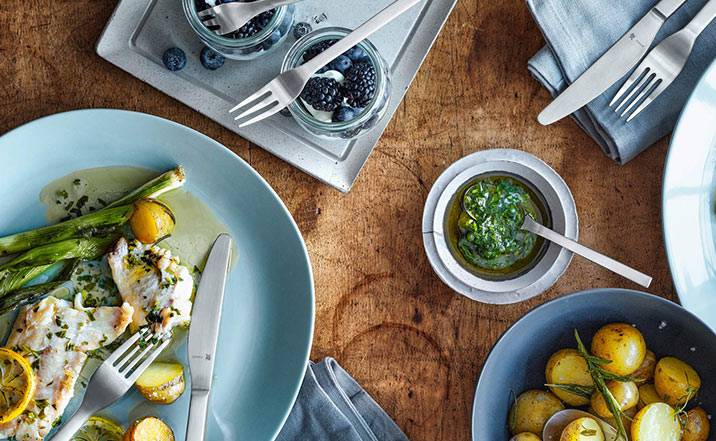 Your cutlery stays looking as beautiful as on the day you bought it.
Extremely resistant to scratches and signs of wear and tear

Polished surfaces stay shiny, matt finishes stay matt.

Knife blades made of high-grade special blade stay sharp for longer

Rustproff and dishwasher safe.

Unique WMF design that gives you pleasure every day.
View Reviews (0)

Your review