Lamb kebap served with flat bread
---
---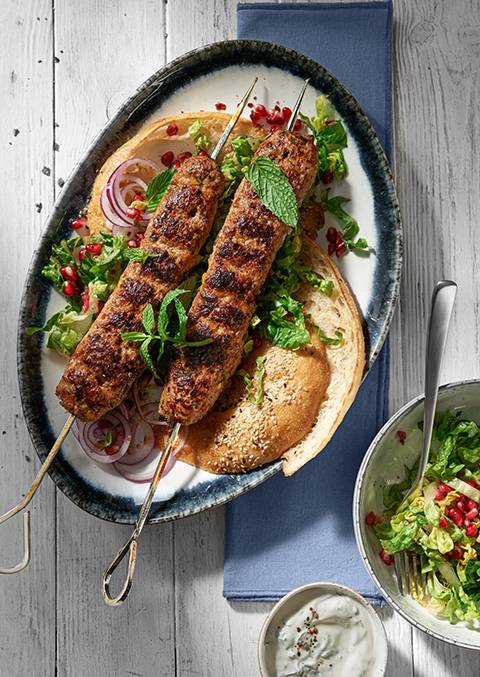 For the kebap skewers

3 garlic cloves
3 onions
2 small red chilli peppers
75 g dried apricots
800 g well chilled, trimmed lamb for mincing (marbled with fat, e.g. from the neck or legs)
Salt, freshly-ground pepper
1 tbsp. dried thyme
1 tsp. ground cumin
½ organic lemon
4 tbsp. Turkish yoghurt
3 tbsp. bulgur wheat
50 gv finely chopped pistachios
A little olive oil




For the dip

4 sprigs of fresh mint
1 garlic clove
Salt
500 g Turkish yoghurt




Plus

2 romaine lettuce hearts
2 red onions
½ pomegranate
4–6 flat Arabian flat breads (khubz or alternatively flat bread)
Salt
A little olive oil
Long skewers
---
Preparation
Peel and roughly dice the garlic and onions. Trim and chop the chilli. Coarsely dice the apricots.

Cut the meat into long strips and add to a bowl. Mix in the prepared ingredients, about 1 tsp. of salt, a little pepper, thyme and cumin, and chill well.

Meanwhile, for the dip, rinse the mint, shake it dry and pluck off the leaves. Finely chop the mint. Peel and finely chop the garlic then crush together finely with a little salt. Mix with the yoghurt and mint, season to taste and keep cool.

Trim, wash, drain and finely chop the lettuce. Peel the onions and cut into rings. Remove the pomegranate seeds. Wash the lemon in hot water, rub it dry and finely grate some of the peel.

Mince the meat through the fine grate (3 mm) of the mincer into a bowl on speed setting 3. Thoroughly knead in 4 tbsp. of yoghurt, bulgur, lemon zest and pistachios until the mixture binds. Generously season the mixture. To check whether the mixture is seasoned enough, you could try frying a small piece. Mould the mince mixture around the skewers so it is about 2–3 cm thick and press it on well. Brush the minced meat with olive oil. Fry on a hot grill or in a grill pan until crispy and brown all over.

Briefly heat up the flat bread as desired. Mix the lettuce and pomegranate seeds together, spread them on the breads and flavour with a little salt and olive oil. Arrange the skewers and onion rings on top. Serve with the dip.
Preparation time
60 minutes
---