Product details
Highlights
Content: Grand Gourmet meat fork, L 15cm, made of Cromargan rust-free stainless steel 18/10, speciality blade steel - item number: 01889576030
Material: Cromargan Stainless steel rust-free 18/10, speciality blade steel
Product description
A carving fork is a handy kitchen aid for all those who enjoy cooking or roasting lots of meat. Carving forks are characterised by their long, thin prongs, which are designed to penetrate meat with ease but without bleeding. Carvings forks can thus be used for easily turning or moving meat around a sizzling pan, or for checking that the meat is properly cooked. When carving a roast, the long prongs hold the meat steady so that you don't have to touch it. WMF carving forks are part of the Chef's Edition, Profi Plus, Grand Gourmet and Spitzenklasse Plus collections and also complete various skimmer sets.
The knives in the Grand Gourmet collection are a highlight in any kitchen. Made entirely from stainless steel, they are not only stylish, but also come with a range of exclusive extras: for example, the Cromargan handles ensure a secure grip and their seamless design guarantees optimum hygiene. When cutting, the bolster provides the necessary balance between handle and blade, giving a whole new meaning to the expression 'cutting-edge': high-grade special blade steel is forged in the traditional way along the entire length of the blade and then finished using Performance Cut technology. The Grand Gourmet series includes classics such as an all-purpose knife, a chef's knife and a bread knife as well as a boning, fillet and Santoku knife. Incidentally, the stainless steel handles are ideal for engraving – allowing you to make each knife unmistakably your own or a highly personalised gift.
Specifications
| | |
| --- | --- |
| SKU: | 18.8957.6030 |
| EAN | 4000530534736 |
| Brand | WMF |
| Collection | Grand Gourmet |
| Size sets | 1-pc. |
| Material | Special blade steel, forged |
| Product properties | Performance Cut |
| Production | Made in Germany |
| Width (cm) | 29 |
| Blade-length (cm) | 15 |
| Color | stainless steel |
| Care | Wash by hand |
| Designer | Makio Hasuike |
| Design Award | Busse Longlife Design Award Busse Design Ulm GmbH 2005, Design Plus Messe Frankfurt 1994, Ernennung Compasso d'oro 1995, Internationaler Designpreis Design Center , Prix de Couverts Maison & Objet Paris 1997, red dot award Design Zentrum NRW 1994 |
Performance Cut
WMF Performance Cut Technology
Cut for as long as you want. Your knife always stays uniquely sharp.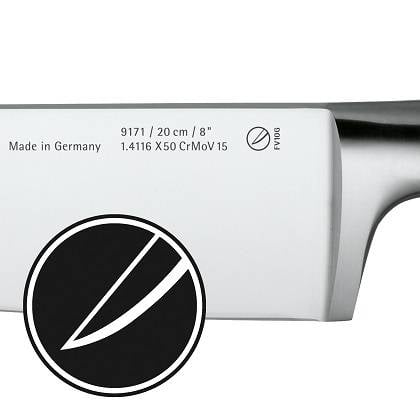 What does Performance Cut Technology mean?
It is the combination of the traditional forging process with the latest precision technology. It is, for instance, a new, innovative finishing of the steel and a high-precision sharpening process of the blades. This results in knives with an optimal cutting angle, which remain sharp for an unbelievably long time.
Cut for as long as you want. Your knife always stays uniquely sharp.
Performance Cut combines traditional forging methods with the latest developments in precision technology.

Performance Cut technology for outstanding and long-lasting sharpness.

Blades made of forged special blade steel.

Sturdy and corrosion-resistant.
Traditional forging craft and the latest 'Made in Germany' technology
Traditional forging craft and the latest 'Made in Germany' technology
WMF follows the tradition of cutlers and uses particular care for this craft. From 2014, the company will combine the traditional art of forging with the latest precision technology in manufacturing. Tests show that WMF household knives that are made with this Performance Cut Technology exceed the standard for cutting performance by double.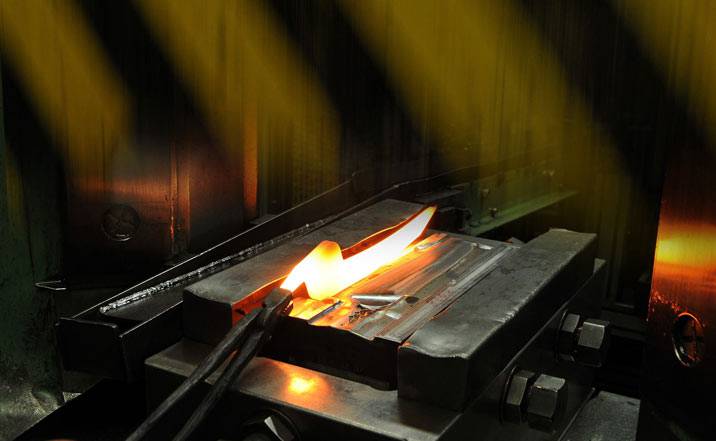 In Hayingen, a small town in the middle of the Swabian Alb, WMF operates one of the largest blade forges in Germany. Annually, hundreds of thousands of knives are made in the company's own factory according to the traditional drop forging process. In this process, blades made of special blade steel are worked over the whole length with the forging hammer. About 30 work steps are required before the customer is holding a knife of the highest quality in their hands: From the examination of the raw material to the packaging and shipping of the knife.
Every work step is subject to strict quality controls. Only in this way can WMF ensure the high quality standard at every phase of the manufacturing process. The result is 'Made in Germany' knife blades that are phenomenally sharp, precise in their cut and retain their cutting performance for a long time.
Performance Cut Technology WMF knife series
View Reviews (0)

Your review