Mediterranean pasta salad
---
---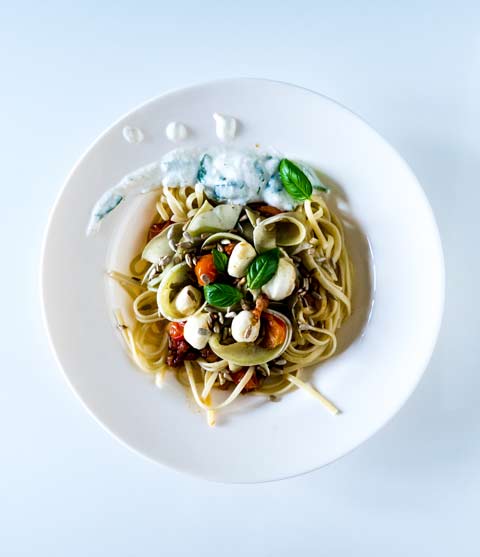 Ingredients
400 g spaghetti
100 g cherry tomatoes
80 g dried tomatoes
100 g pears
125 g mozzarella balls
80 g sunflower seeds
fresh basil
100 g yogurt
2 tsp. honey
1 tsp. lemon juice
1 tbsp. white wine vinegar
2 tbsp. olive oil
Oregano
Thyme
Salt & pepper
---
Preparation
1. Prepare the pasta according to the instructions on the package.

2. Cut the pear into thin slices, wash the fresh basil.

3. Prepare a vinaigrette with yogurt, honey, lemon juice, vinegar, oil, spices, salt and pepper. Put this in a bowl with the pasta and the rest of the ingredients and mix.

Tip: Instead of mozzarella balls, spicy Gorgonzola is also suitable.

---