Product details
Highlights
Material: Cromargan protect Edelstahl poliert
Rostfrei und formstabil
Das Tafelmesser hat eine eingesetzte Klinge aus geschmiedetem und gehärtetem Spezialklingenstahl. Der Wellenschliff gewährleistet jahrelang anhaltende, optimale Schärfe.
Das Tafelmesser hat eine eingesetzte Klinge aus geschmiedetem und gehärtetem Spezialklingenstahl. Der Wellenschliff gewährleistet jahrelang anhaltende, optimale Schärfe.
Jahrelang anhaltende, optimale Schärfe
Product description
Tafelmesser sind vielseitig und in jedem Haushalt vertreten. Das Messer gilt als eines der ältesten Esswerkzeuge weltweit und zählt zum Standard einer jeden Besteckschublade. Vor allem das sogenannte Tafelmesser wird bei zahlreichen Menüfolgen aus dem Schrank geholt, da es universell für alle Mahlzeiten und Gerichte eingesetzt werden kann. Man unterscheidet bei Tafelmessern zwischen den hochwertigen Messern mit eingesetzter Klinge, bei denen die Klinge aus Spezialklingenstahl in das Messerheft eingelassen wird und Monobloc-Messern, die "aus einem Stück" gefertigt sind. Wie die Menuegabel und der Menuelöffel gehört das Menuemesser, zur Grundausstattung eines jeden Menü-Gedecks. Das Tafelmesser Sonic von WMF ist aus Cromargan protect gefertigt und somit besonders widerstandsfähig. Zudem kann man es einfach in der Spülmaschine reinigen.
Mit seiner betont schlanken Silhouette wirkt das WMF Besteck Sonic grazil und anmutig. Die Konturen sind klar das Design aus dem Hause Casini & Pringiers ist sachlich gehalten. Auffällig ist das präzise abgesetzte Stielende. Für die langanhaltende Schneidfähigkeit des Menuebestecks sorgen Messer mit eingesetzter geschmiedeter Klinge. Das polierte Besteck besitzt eine zeitgemäße Länge ist spülmaschinenfest und extrem kratzbeständig.
Specifications
| | |
| --- | --- |
| SKU: | 12.1203.6347 |
| EAN | 4000530649034 |
| Brand | WMF |
| Collection | Sonic |
| Size sets | 1-pc. |
| Scope of delivery | 1x Tafelmesser (23,0 cm) |
| Material | Cromargan protect |
| Material property | Stainless steel, polished |
| Knife art | knife with inserted, forged blade |
| Length (cm) | 23 |
| Gross weight (g) | 81,6 |
| Color | stainless steel |
| Care | Dishwasher safe |
| Designer | Casini & Pringiers |
| Design Award | Design Plus Messe Frankfurt 2004 |
Cromargan protect
WMF Cromargan® Protect Technology
Cutlery that always looks as good as new even after years of use – no longer just wishful thinking but now a reality. WMF Cromargan protect means the surface of the cutlery items always looks flawless. The passing of time hardly leaves a trace, even after extended use.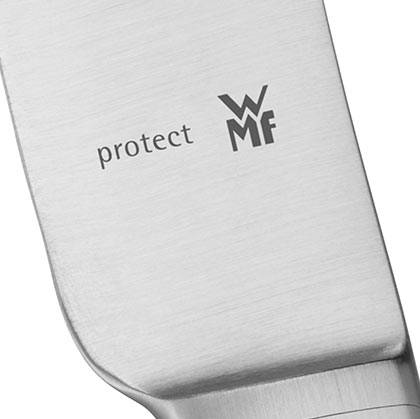 When WMF was the first company to use stainless steel for the manufacturing of cutlery and household appliances more than 80 years ago, this marked the start of one of the most progressive chapters in the history of cooking and housekeeping. The material, which is known by the name Cromargan®, cannot tarnish, is rustproof, acid-resistant, unbreakable, easy to clean and so is extremely durable.
150 years after its first cutlery model was launched onto the market, in 2009 WMF introduced cutlery finished with Cromargan protect. Cromargan protect is produced using a thermochemical treatment process. This involves adding nitrogen to stainless steel at high temperatures, which penetrates into the material and results in a much harder surface after it cools down. This makes the material extremely resistant against signs of wear, and means it still looks as good as new even after years of use. Even intensive use and frequent cleaning in the dishwasher has no adverse effects. Polished surfaces never lose their shine, and matt surfaces stay matt. A brilliant innovation, which is patented and internationally protected by the WMF brand.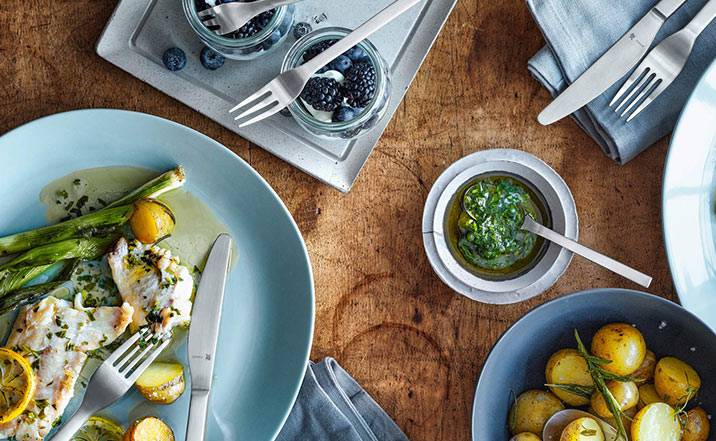 Your cutlery stays looking as beautiful as on the day you bought it.
Extremely resistant to scratches and signs of wear and tear

Polished surfaces stay shiny, matt finishes stay matt.

Knife blades made of high-grade special blade stay sharp for longer

Rustproff and dishwasher safe.

Unique WMF design that gives you pleasure every day.
View Reviews (0)

Your review