Product details
Highlights
Special Performance Cut technology means the knife blades are especially sharp - for a long time
Sturdy blades from special blade steel, corrosion-resistant, traditionally forged
Excellent finger protection with a forged bolster
Ergonomically shaped handle in modern design
Made in Germany
Product description
Ein Messerblock ist eine sinnvolle Ergänzung für Ihre Messersammlung. Mehr noch: Er bietet den Klingen ein sicheres und praktisches Zuhause. Die WMF Messerblöcke erhalten Sie in verschiedenen Ausführungen: aus Holz, zum Beispiel Bambus, Eiche oder Walnuss, aus Edelstahl oder aus Kunststoff. Die klassischen Messerblöcke besitzen Aussparungen für die wichtigsten Küchenmesser, einen Wetzstahl und eine Haushaltsschere. Darüber hinaus gibt es magnetische Modelle und Blöcke mit integriertem Borsteneinsatz. Beide Varianten können Sie flexibel für jede Messerart verwenden. WMF Messerblöcke erhalten Sie unbestückt oder bestückt mit Messern der Kollektionen Grand Gourmet, Grand Class, Spitzenklasse Plus und Classic Line. Wofür auch immer Sie sich entscheiden: Mit einem Messerblock schützen Sie Ihre Messer und haben sie stets griffbereit.
Die neue Serie Cuisine One ist der attraktive Neuzugang in unserem hochwertigen Messersortiment. Bewährte, geschmiedete Performance Cut Klingen - Made in Germany sind gepaart mit einem modernen Griff aus hochwertigem Kunststoff. Die neue Serie verspricht sauberes und zuverlässiges Arbeiten und bietet ein kompetentes Sortiment mit den wichtigsten Klingenformen aus Kochmesser, Brotmesser mit Doppelwellenschliff, Fleischmesser, Allzweckmesser mit Doppelwellenschliff, Gemüsemesser, Santokumesser und Chinesischem Kochmesser. Attraktive Set Angebote ergänzen das Portfolio.
Specifications
| | |
| --- | --- |
| SKU: | 3201010557 |
| Alte Art. Nr.: | 18.9758.9992 |
| EAN | 4000530709622 |
| Brand | WMF |
| Collection | Cuisine One |
| Size sets | 6-pcs. |
| Scope of delivery | 1x chef's knife, 1x bread knife with double scallopedserrated edge, 1x carving/filleting knife, 1x utility knife with double scalloped serrated edge, 1x sharpening steel, 1x beech knife block |
| Material | Special blade steel |
| Building material | Kunststoff, Holz (Buche) |
| Product properties | Performance Cut, Double serrated edge, Plastic handle |
| Production | Made in Germany |
| Color | nature, black, stainless steel |
Performance Cut
WMF Performance Cut Technology
Cut for as long as you want. Your knife always stays uniquely sharp.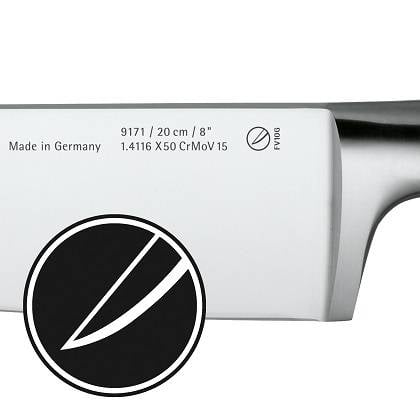 What does Performance Cut Technology mean?
It is the combination of the traditional forging process with the latest precision technology. It is, for instance, a new, innovative finishing of the steel and a high-precision sharpening process of the blades. This results in knives with an optimal cutting angle, which remain sharp for an unbelievably long time.
Cut for as long as you want. Your knife always stays uniquely sharp.
Performance Cut combines traditional forging methods with the latest developments in precision technology.

Performance Cut technology for outstanding and long-lasting sharpness.

Blades made of forged special blade steel.

Sturdy and corrosion-resistant.
Traditional forging craft and the latest 'Made in Germany' technology
Traditional forging craft and the latest 'Made in Germany' technology
WMF follows the tradition of cutlers and uses particular care for this craft. From 2014, the company will combine the traditional art of forging with the latest precision technology in manufacturing. Tests show that WMF household knives that are made with this Performance Cut Technology exceed the standard for cutting performance by double.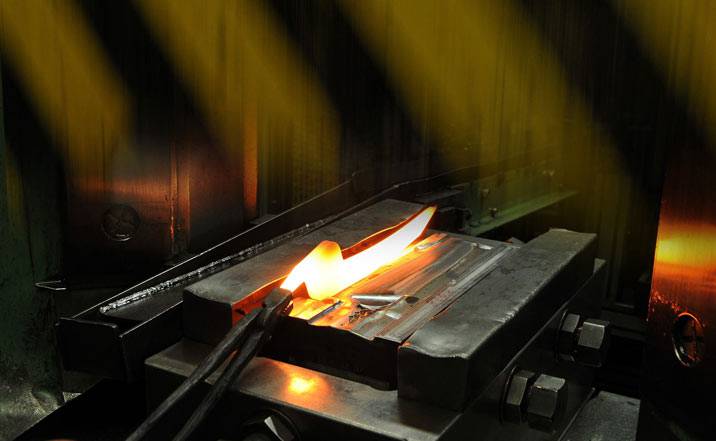 In Hayingen, a small town in the middle of the Swabian Alb, WMF operates one of the largest blade forges in Germany. Annually, hundreds of thousands of knives are made in the company's own factory according to the traditional drop forging process. In this process, blades made of special blade steel are worked over the whole length with the forging hammer. About 30 work steps are required before the customer is holding a knife of the highest quality in their hands: From the examination of the raw material to the packaging and shipping of the knife.
Every work step is subject to strict quality controls. Only in this way can WMF ensure the high quality standard at every phase of the manufacturing process. The result is 'Made in Germany' knife blades that are phenomenally sharp, precise in their cut and retain their cutting performance for a long time.
Performance Cut Technology WMF knife series
View Reviews (0)

Your review