Product details
Highlights
Ergonomische Griffe passen sich der natürlichen Form der Hand an und erleichtern das Arbeiten mit dem Messer
Hochwertiger, geschmiedeter Spezialklingenstahl
Performance Cut - für Messerklingen von überragender und langanhaltender Schärfe
Abgerundeten Griffkanten - die Messer liegen noch besser in der Hand
Fugenlose Verarbeitung der Griffe, ein geschmiedeter Kropf für die richtige Balance und mit Performance Cut veredelte Klingen garantieren sauberes sicheres und zuverlässiges Arbeiten
Product description
Ob Hobby- oder Profikoch, ob Vegetarier oder Fleischliebhaber, ob viel oder wenig Platz in der Küche: Eine gewisse Auswahl an Messern muss sein. Schließlich empfehlen sich verschiedene Klingen, um alle Lebensmittel ideal zu verarbeiten. Ein Set enthält daher unterschiedliche Messer, wobei die Zusammenstellungen variieren. So decken beispielsweise die fünfteiligen Sets der Kollektionen Grand Class, Grand Gourmet und Spitzenklasse Plus den gesamten Bedarf an Küchenmessern ab: Gemüse-, Koch-, Allzweck-, Fleisch- und Brotmesser – damit sind Sie bestens ausgestattet. Für den kleineren Bedarf gibt es dreiteilige Sets, meist bestehend aus Koch-, Zubereitungs- und Gemüsemesser. Wer es bunt mag, wird sich über die farbenfrohen Sets der Touch Edition freuen. Sie sehen: Die Auswahl ist groß. Welches Set passt am besten zu Ihnen?
Extremely sharp blades, handles that fit like a glove and an unbeatable range of knives: the Spitzenklasse Plus collection is a classic amongst WMF knives. The refreshing new design features rounded edges on the handles for an even better grip. The seamless transition between blade and handle, a forged bolster to create the right balance and a Performance Cut blade guarantee clean, safe and reliable cutting. The range of knives in this collection is extremely diverse, catering to all cooks and ingredients: from classics such as chef's knives, all-purpose knives and vegetable knives with various blade lengths, to various types of Chinese chef's knives and cleavers, to Santoku and steak knives. Preparing food has never been so much fun!
Specifications
| | |
| --- | --- |
| SKU: | 3201010254 |
| Alte Art. Nr.: | 18.9219.9992 |
| EAN | 4000530704108 |
| Brand | WMF |
| Collection | Spitzenklasse Plus |
| Size sets | 2-pcs. |
| Scope of delivery | 1 x carving knife 20 cm, 1 x utility knife 11 cm |
| Material | Special blade steel, forged |
| Building material | Kunststoff |
| Product properties | Performance Cut |
| Production | Made in Germany |
| Blade-length (cm) | 20 |
| Color | black, stainless steel |
| Care | Wash by hand |
Performance Cut
WMF Performance Cut Technology
Cut for as long as you want. Your knife always stays uniquely sharp.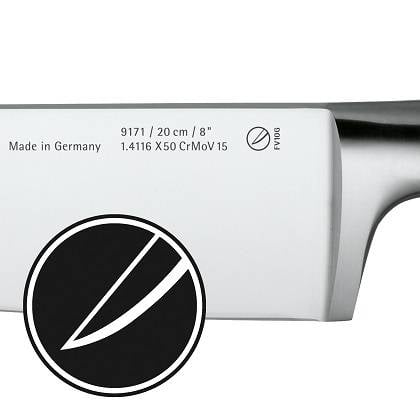 What does Performance Cut Technology mean?
It is the combination of the traditional forging process with the latest precision technology. It is, for instance, a new, innovative finishing of the steel and a high-precision sharpening process of the blades. This results in knives with an optimal cutting angle, which remain sharp for an unbelievably long time.
Cut for as long as you want. Your knife always stays uniquely sharp.
Performance Cut combines traditional forging methods with the latest developments in precision technology.

Performance Cut technology for outstanding and long-lasting sharpness.

Blades made of forged special blade steel.

Sturdy and corrosion-resistant.
Traditional forging craft and the latest 'Made in Germany' technology
Traditional forging craft and the latest 'Made in Germany' technology
WMF follows the tradition of cutlers and uses particular care for this craft. From 2014, the company will combine the traditional art of forging with the latest precision technology in manufacturing. Tests show that WMF household knives that are made with this Performance Cut Technology exceed the standard for cutting performance by double.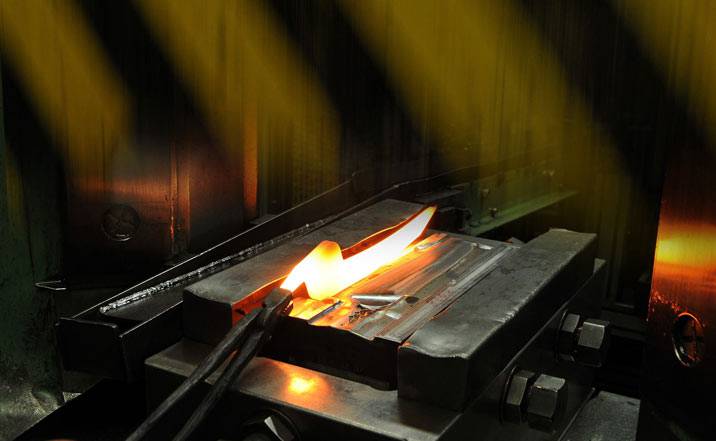 In Hayingen, a small town in the middle of the Swabian Alb, WMF operates one of the largest blade forges in Germany. Annually, hundreds of thousands of knives are made in the company's own factory according to the traditional drop forging process. In this process, blades made of special blade steel are worked over the whole length with the forging hammer. About 30 work steps are required before the customer is holding a knife of the highest quality in their hands: From the examination of the raw material to the packaging and shipping of the knife.
Every work step is subject to strict quality controls. Only in this way can WMF ensure the high quality standard at every phase of the manufacturing process. The result is 'Made in Germany' knife blades that are phenomenally sharp, precise in their cut and retain their cutting performance for a long time.
Performance Cut Technology WMF knife series
View Reviews (0)

Your review