Minced veal balls with cranberries on a salad of mushrooms and roasted leek
---
---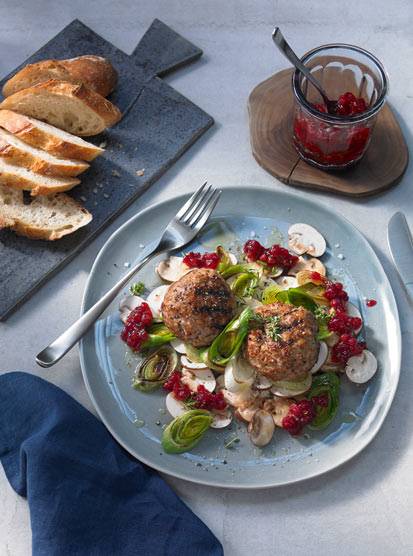 For the balls:
5 slices of toast bread, approx. 125 g
80 g shallots
30 ml peanut oil
1/2 bunch thyme
40 g sweet mustard
800 g minced veal, may need to be pre-ordered from the butcher, alternatively: minced beef
Salt
Black pepper, freshly ground
For the vegetables:
250 g very fresh brown mushrooms
350 g leek
80 g butter
20 ml lime juice
1/2 TL anise seeds
Salt



For the compote:

200 g cranberries
180 g sugar
---
Preparation
For the compote, wash the cranberries, leave to dry and sort them. Stir with the sugar in a food processor using a dough hook at a low speed until the sugar is completely dissolved and the cranberries have a thick liquid consistency.
For the meatballs, remove the crust from the toast bread and soak in warm water for 10 minutes, then carefully press dry. Peel the shallots, dice finely and sauté in 10 ml peanut oil in a small frying pan over a low heat for 5 minutes, then leave to cool. Pluck the thyme – except for a few nice sprigs for garnishing – from the stems and chop finely. Knead the toast bread, shallots, thyme, mustard, minced meat, salt and pepper and season again, then form into 8 balls. To serve, coat the balls with the remaining oil and cook them on the grill (or in a grill pan) over a medium heat for 4–5 minutes, cooking their entire surface.

TIP: If you can't get hold of fresh cranberries, you can use a ready-made cranberry compote.
In the meantime, clean the mushrooms, wash them briefly if necessary and cut/plane them into very thin slices, then arrange them on four plates. Clean, wash and finely chop the leeks, then fry them in a frying pan with brown butter for 2 minutes. Then deglaze with lime juice and finish cooking with the anise and salt. Serve together with the meatballs and compote on top of the mushrooms.
Preparation time
1 hour
---